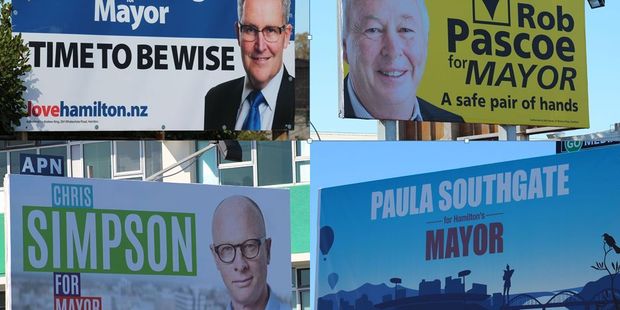 With the local body elections beginning to heat up and hundreds of hoardings popping up around the city, Ged Cann approached PAN Media's creative director Graeme Blake for his opinion on some of the candidates' billboards and corflute sign designs.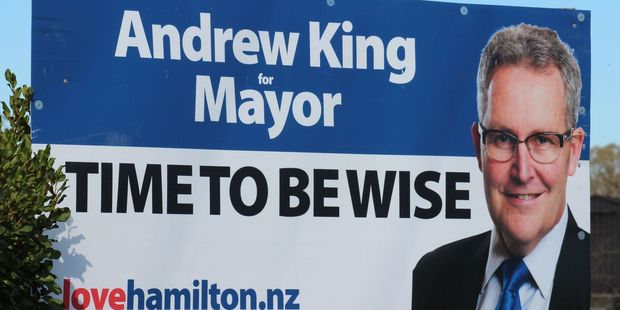 Andrew King: "He's right on the money. It delivers the whole blue and serious corporate image which speaks to trust. A recurring theme all through here is if you don't have glasses you should go and see SpecSavers because it sort of delivers a more educated and intelligent look." In response to the similarity to Kings Finance advertising colouring and layout: "He's cheekily leveraging other advertising. There's nothing wrong about that." Third place.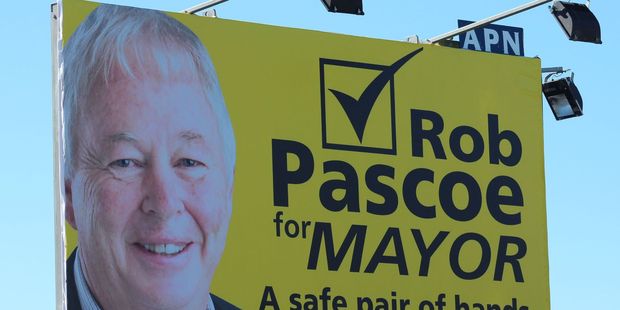 Rob Pascoe: "It's probably a pet bugbear putting bloody ticks in election signage. It's like if you can't think of anything else to do put a big tick in a big box - that seems to be what they do."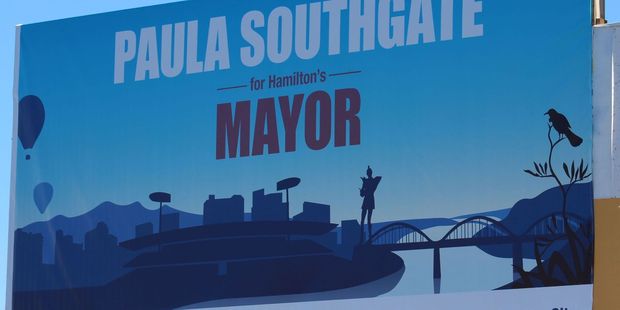 Paula Southgate: "This one's quite good - it follows some quite on-trend principles with flat design. It makes the information simpler to consume." Graeme was also a fan of the tui reminding voters of the Halo Project which Southgate advocated for, and awards her billboard (without headshot) second place.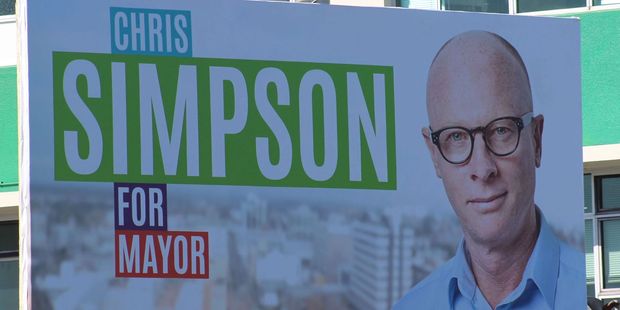 Chris Simpson: "It's sharp, it's confident, out of the lot it looks like a designer has got a hold of it. It's very serious and elevated and not too stuffy with the lack of a suit and tie. Elevating himself above the backdrop...I think he would have to be about a mile high there." Nevertheless, Graeme gives Chris first place.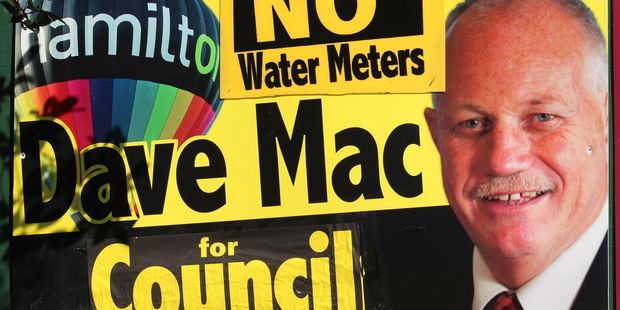 Dave Mac: "It all starts out quite negative with the water meters., it doesn't make me want to go much further. It's quite confronting and a hectic looking piece of work." Graeme resisted making the witticism of featuring a balloon and being full of hot air.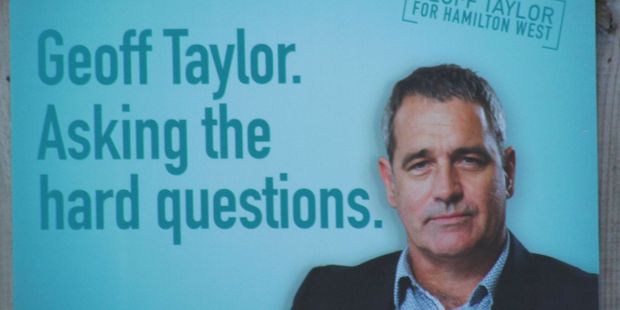 Geoff Taylor: "These muted greens are quite calming but really you have at best three or four seconds to take the information in - it's just a little bit wallpaper-ish."
On the slogan 'asking the hard questions': "You have to be known for doing something and I suppose his career as a journalist he's used to doing that."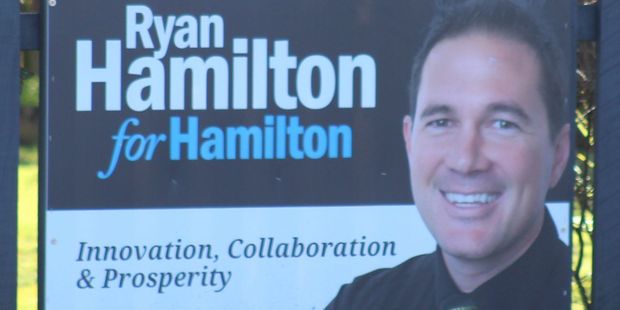 Ryan Hamilton: "I would have thought you would make more out of having Hamilton as a surname." On the slogan 'innovation, collaboration, and prosperity' Graeme said without knowing a candidate's track history and manifesto it was hard to take such straplines seriously. "Whether they have really thought about them or if they just rhymed."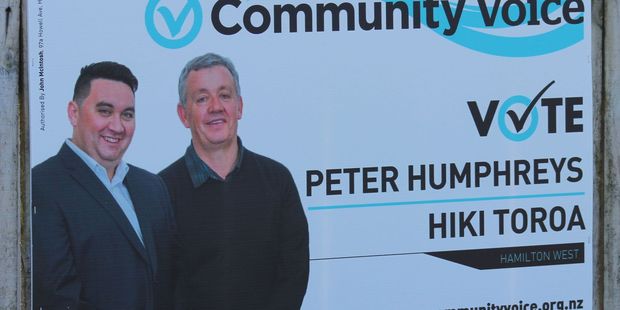 Community Voice: Already not a fan of the tick, Graeme is even less of a fan of having two ticks. "It's all quite bland, nothing's grabbing me, but they have the tick, and they have the tick twice - so they are telling us to vote, but I'm not sure I would take the message away to vote for them necessarily."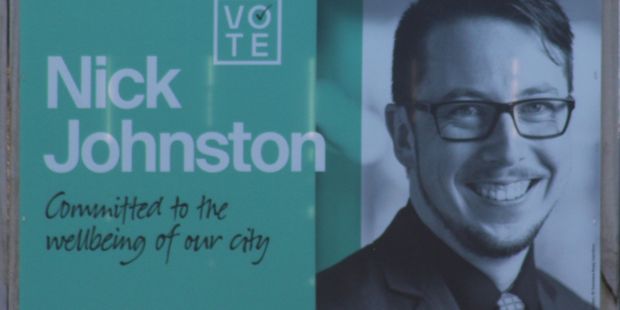 Nick Johnston: "Interesting going with the single colour because it kind of makes you look like you're on a budget, which could be a good thing ... being fiducially responsible." Alternatively it could come across as going cheap on advertising. "A double edged sword," according to Graeme.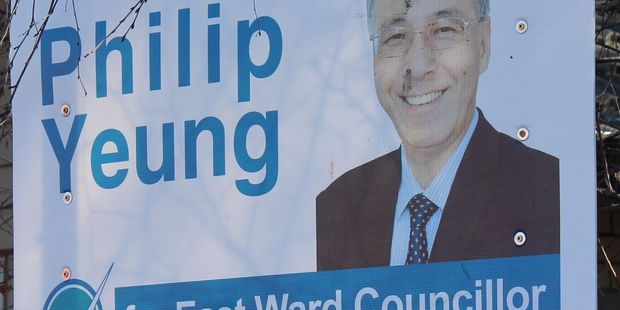 Philip Yeung: "He's used as good as Council brand fonts and colours, very smart. It makes him look like the incumbent and meant to be there and as though it's a foregone conclusion."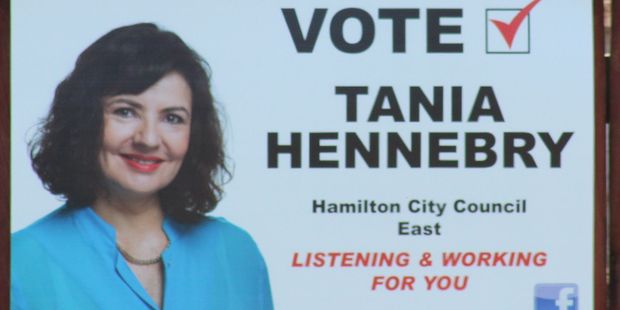 Tania Hennebry: "It's interesting using red copy on election material - it kind of makes you wonder whether you are in a local body or national election, so you should really choose those colours carefully."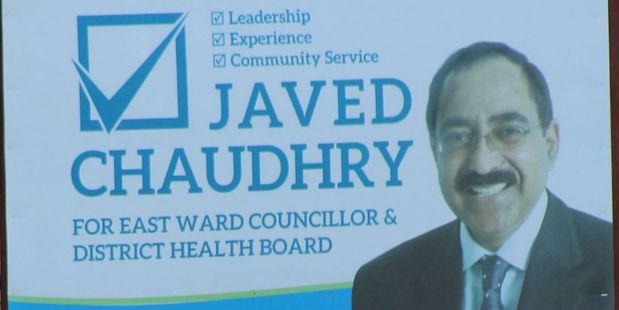 Javed Chaudhry: "He's gone hardout on the tick and that's all I see." The presence of three smaller ticks don't go down well but "he looks happy enough".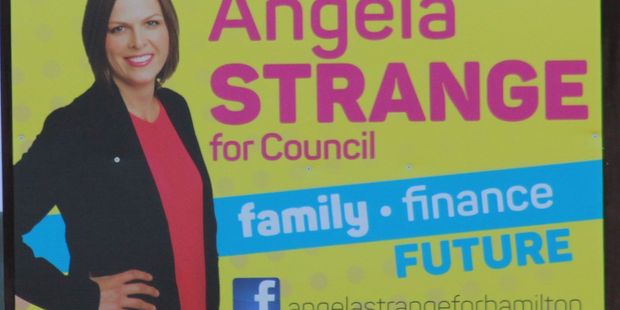 Angela Strange: "It certainly screams at you, rightly or wrongly. That's a nice long Facebook address as well. It's confident, yellows and pinks - she's definitely going for a younger audience."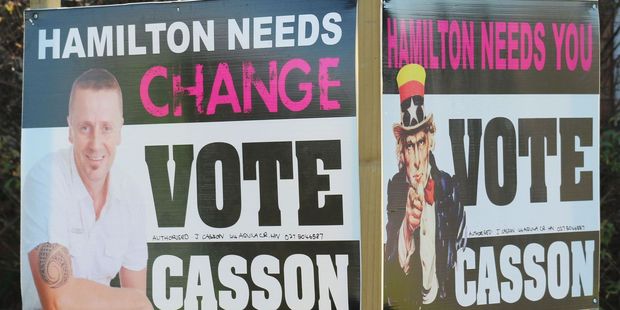 James Casson: Describing his sign as being "a little Donald-Trump-esque", Graeme questions the advisability of using Uncle Sam at a time when America's own presidential election is shaping up to be such a farce.
"I'm just not sure what Uncle Sam has to do with Hamilton. I wouldn't have drawn the public's attention to anything American. That must be the only clipart in the whole collection."
The pink distressed font also raised an eyebrow. "I have no idea why you would pick pink other than the contrast."
Graeme approved of the photo, tattoos and all. "He looks like a do-er, and more people now have tattoos than not. He's pro-youth and it's a very real look."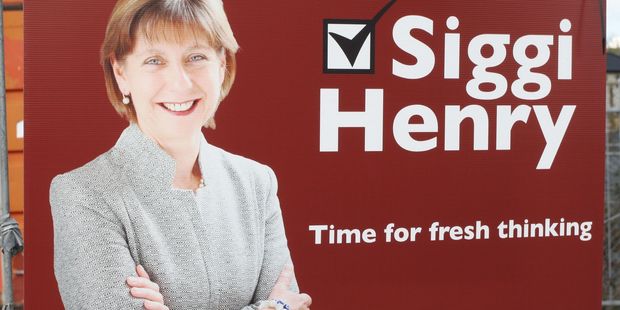 Siggi Henry: "Up there with Chris Simpson and Paula Southgate in terms of on-trend design - colour, font, simplicity of message and professional photography, all good and only let down by the presence of the tick. Okay I get it, I need to tick the box."