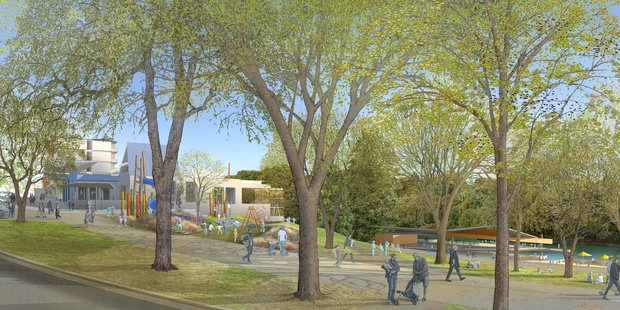 A more comprehensive Ferrybank Development Plan was adopted at a full Hamilton City Council meeting last Thursday, providing some first street-view glimpses of what the completed project could look like.
Although it garnered wide support from elected members, councillors Andrew King and Garry Mallett voted against adopting the plan.
Cr King opposed it on the basis that reserve land was being developed for commercial properties, and said the adoption would pressure future councils to continue, suggesting the plan should only be received - not adopted - until after public consultation.
Council CEO Richard Briggs said the plan was only a vision and not legally binding.
"The incoming council will have a far closer look at the detail than this council will."
Cr Mallett said he couldn't support the plan because it was unclear where the funding was coming from.
"The lever of risk that's involved in this project is huge, the level of risk is that it will fall back on the ratepayer. The private sector funders - not a single one has been identified."
He said council could not pull the project off.
"This is the V8s and Claudelands wrapped up in one."
Cr Ewan Wilson used his debate to speak in support of the plan.
"Ratepayers have been saying we have been waiting for a hundred years for you to have the courage of your convictions," he said.
"There are three types of people: there are the doers, then there are those who do nothing and say nothing, then there are those who are the critics."
Concerns were raised over possible geotech issues, with councillor Dave Macpherson alluding to Victoria on the River, which council purchased for $3 million in 2009 and originally earmarked for commercial development before finding out the existing structures were built on loose fill. The land was adapted for a park.
Tonkin and Taylor senior civil engineer Ted Wilson said there were not the same issues as the Victoria on the River site and pointed out previous buildings had been on the land.
"In the Ferrybank or Roose Park development we don't see any of that land which can't be developed with buildings and steps and terraces."
Cr Macpherson also asked how easily the plan could accommodate a new Founders Theatre.
Director of Wraight Athfield Landscape and Architecture (WALA) Megan Wraight, who was involved in the Plan, said the idea came late in the piece and the proposal had not been considered in any detail.
Roughly $250,000 was earmarked for the creation of the Ferrybank Development Plan in 2015/16 which special projects manager Jacob Quinn said had been all but spent to date.
Council will now commence the processes associated with implementing the Ferrybank Development Plan with a stage one detailed implementation plan to be presented to the new council before the end of the year.