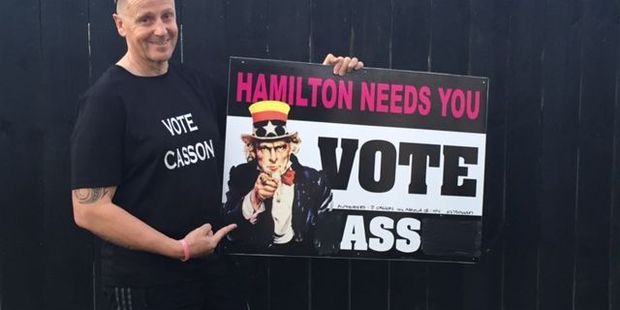 Mayoral candidate, former cop and body guard to the political elite, James Casson can forgive a bit of amusing graffiti but draws the line at theft when it comes to his election signs.
Mr Casson had two signs stolen from two separate sites on Endeavour Avenue and another partially covered in black tape to read 'vote ass'.
"I thought that was incredibly funny, but stealing's another matter.
"They put tape over it, so it wasn't that bad... I thought that was pretty clever myself, and that's always fixable, but when people are stealing things that's different."
Mr Casson said the thieves could return the signs to the address they were stolen from and there would be no questions asked.
"I'm not concerned about prosecuting anybody but if they keep disappearing I will be making a complaint."