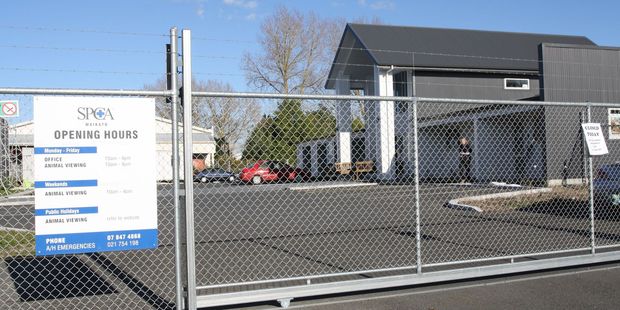 The Waikato SPCA will not close despite its financial woes and remains autonomous, despite RNZSPCA chief executive Ric Odom saying the national office had created a plan with "fairly drastic actions" to get the centre back on track.
These actions would likely include redundancies, although Mr Odom was unwilling to speculate on the number.
"We are being really upfront with staff and the staff are being fantastic, but yes, I think it's fair to say we will have to look at those staff numbers. We're looking across the board, every bit of expenditure we are having a look at and thinking -- what do we have to reduce at the moment to live within our means?
"That's all aimed at making sure they will continue to survive, and we will continue to ensure the services to the good people of the Waikato and animals of Waikato continue."
Mr Odom said the national office had looked into the finances and there was nothing untoward.
"Everything they earned was spent on the animals or to support animals," he said.
The austerity measures will include reducing the level of veterinary services that the Waikato SPCA pay for, with more more bills passed onto owners and reducing the kind of animals accepted into the shelter, but Mr Odom said all core service such as animal inspectors and rehoming would continue.
"The public probably won't see a huge difference."
Mr Odom down-played the sudden change in fortunes, which saw the Waikato branch slip from a $24,000 surplus in the 2014 financial year to a $390,000 deficit in the space of a year, saying such shifts were not uncommon when income from donations was lower than expected or expenses were higher.
The increase in legal fees from $5000 to $31,000 in the space of a year was attributed by Mr Odom to an increase number of prosecutions taken by the SPCA against animal owners, rather than any internal disputes.
"Without knowing the specifics I can say generally speaking legal expenses by SPCAs are related to investigations and possibly prosecutions," he said.
Mr Odom said there were central funds to help with legal prosecutions which the Waikato SPCA had not applied for.
The move to a new centre in Te Rapa saw the hiring of a number of additional staff, he said.
"That was based on an anticipated level of income that didn't arise."
Mr Odom could not give any updated data on the current state of finances since the 2015 annual report.
"What I can say is the plan we have in place is looking to achieve about a break-even budget by the end of this financial year."
Mr Odom said a number of new vehicles were leased by the Waikato SPCA last year, and that this expenditure was one that could possibly have been delayed.
"The vehicles they had were at the end of their life, they were pretty old, they didn't buy them, they leased them. Did they lease too many? I guess that's arguable, but it's not a huge fleet."
Executive officer Sara Elliott-Warren has been on leave for several weeks, and Mr Odom said she remained employed at the branch.
"I'm really not at liberty to say very much about that because that's an employment matter," he said.
The current federated model works with a national body, the RNZSPCA, with 46 centres that operate autonomously.
"All centres are responsible for their own management and governance," said Mr Odom.
"There's a few exceptions but that's broadly how it works."