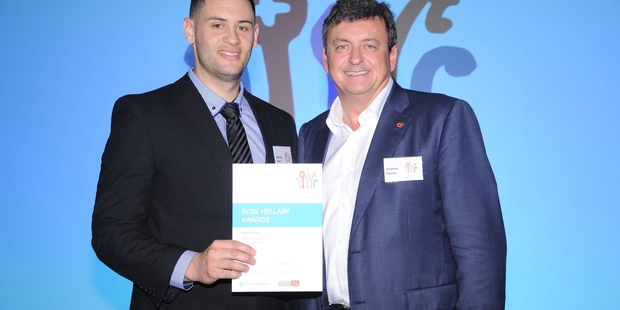 A world-leading indigenous health researcher and the developer of a brain-controlled prosthetic hand have each been awarded $30,000 scholarships by the Rose Hellaby Maori Education Fund.
Erena Wikaire (Ngapuhi) and Mahonri Owen (Ngapuhi and Ngati Tuwharetoa) were awarded the 2016 Rose Hellaby Postgraduate Maori Scholarships at the fifth annual Rose Hellaby Awards on August 17. The fund, managed by Perpetual Guardian, has distributed almost $4 million to support Maori education since 1977.
Owen, who is studying for a PhD in Engineering at Waikato University, is developing a prosthetic hand that can be controlled by the brain and perform the basic functions of a human hand. The technology could be life-changing for those who lose a hand through injury, warfare or illness.
Wikaire is working towards a doctorate in public health at Auckland University, focusing on how Maori healing traditions can be used to improve health outcomes for Maori.
Her research is attracting international attention in the field of indigenous health care.
Besides the two postgraduate scholars, this year's Rose Hellaby Awards distributed more than $130,000 by Perpetual Guardian to more than 100 recipients, including secondary school and undergraduate students.
The two students are set to further enhance New Zealand's reputation in health and science related endeavours. They follow in the footsteps of previous scholarship recipients such as Dr Mataroria Lyndon, who received $30,000 from the fund last year and is now studying at Harvard University.
Mahonri Owen, 27, was born and raised in the Waikato. He cites his mother and Nelson Mandela as role models and lived in South Africa for two years working as a missionary. The experience inspired him to use his engineering skills to help those less fortunate.
Mahonri says receiving the Rose Hellaby Scholarship is invaluable in more ways than one.
"The dollar value of course is a big plus as it has helped me to continue studying. On top of that, it opens up a lot of doors career-wise saying I have been part of the Rose Hellaby programme, because people recognise the name. It benefits me in all aspects of my life."