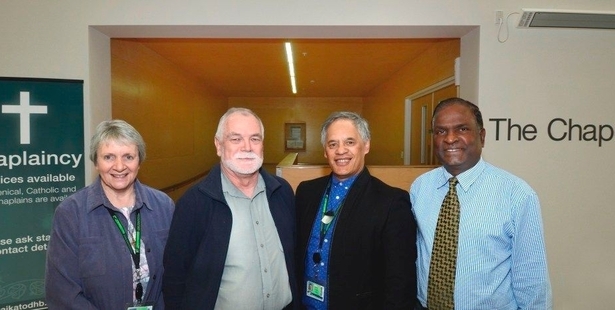 School and community choirs, soloists, violinists and a player of the Paraguayan harp will make music together at the annual concert to celebrate the work of Waikato Hospital's chaplains - and the public are invited to attend and show their support.
The Hear and Care concert is on Saturday, September 3 and raises funds for the work done by the chaplains at one of New Zealand's busiest hospitals.
The concert is called Hear and Care because chaplains know that part of holistic healthcare is meeting a patient's spiritual and emotional needs. That includes being listened to.
"Being heard with respect for our story makes us feel better when we are going through hard times," said Reverend Paul Weeding, locum chaplain and acting chair of the Waikato Healthcare Chaplaincy Committee Charitable Trust.
" We are able to experience a sense of wellbeing despite suffering illness.
"Hospital chaplains are available to listen and support people at a difficult time. If patients, families or staff need emotional and spiritual support, then we provide it, regardless of a person's beliefs, age or culture."
The concert will feature more than 100 performers, including sopranos Dr Beverley Pullon and Amy Thomas, St John's Methodist Tongan Choir, Hamilton Community Gospel Choir, Petra Voce (St Peter's School, Cambridge), Luminescence from Waikato Diocesan School for Girls, St Paul's Collegiate Choir, Fizzi Whale (Paraguayan harp), Emi Ng (violin), Victoria Chanwai (violin), The Campbell brothers, Vision College Vocal Ensemble and St Peter's Cathedral Choir.
The concert is on September 3 at St Paul's Collegiate Chapel, 77 Hukanui Rd, Chartwell. Doors open 7pm, show starts 7.30 pm. Adults $20, students $5.
For tickets or more information call Heather on 027 315 6031. Door sales (cash only) will be available on the night at 7pm.
We have one double pass to Hear and Care to give away. To be in to win, email your name, address and daytime telephone number to hamiltonnews@nzme.co.nz by midday, Tuesday, August 23.