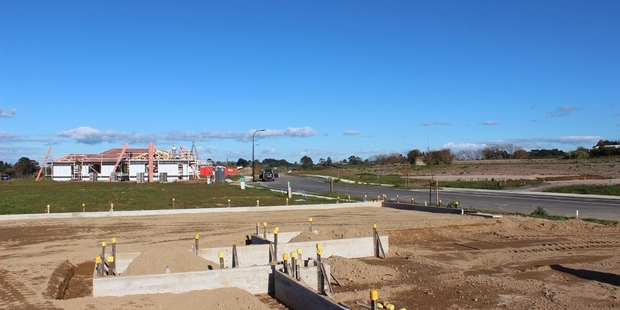 Hamilton has the land and infrastructure in place to deal with the housing boom but actually seeing new houses and sections appear on the market will depend largely on factors beyond council control, a senior staffer believes.
Hamilton City Council city growth general manager Kelvyn Eglinton said there was enough developer-ready land in greenfield areas alone to cater for market needs for five years, with more than 3400 plots currently available.
What was holding up new houses and sections appearing on the market were shortages in building labour and materials, and the speed at which developers were bringing properties to title.
"They are external to council. Part of that is around working and incentivising and compelling developers to release land faster, and part of that is about finding solutions to the building skills shortage and material shortage," he said.
Mr Eglinton reiterated that the council does not build homes, but is responsible for zoning and infrastructure development to allow developers and builders to take lots to market.
He said the council had very few methods to incentivise developers to release land to the market, and generally any incentive would revolve around reducing developers' balance sheet risk.
One suggestion was increasing rates, but he said this would be unlikely to sway developers.
"Any increase in rates for greenfield land held by developers would not be significant enough to compel release because they're making an increase just by holding onto the land before they develop it."
Other demand-driven solutions such as adjusting interest rates, reducing immigration, or reducing the period developers held building consents for were all at the control of central government, Mr Eglinton said.
Addressing constraints in building materials and labour were also largely out of council control, and Mr Eglinton said there was currently a waiting list of around nine months for builders.
"Even if we open up a new growth cell and supply more land, that's not the solution to the restraints."
This, Mr Eglinton said, would put strain on ratepayers as the cost of new infrastructure was passed on until such a time as council started collecting rates from the land.
Mr Eglinton said council was considering a new Developers Forum to allow himself and council CEO Richard Briggs to meet and work together with developers.
Current short-term trends suggest growth figures were beginning to plateau, however a complete slowdown was not expected in the next 12 months, he said.
Of all 9574 new dwellings forecast as needed over the next 10 years, 60 per cent are expected to come from greenfield development, with 40 per cent coming from infill.
The target in the District Plan is for half of all new builds to be in-fill.
"What is fair is to be thinking about is what do we need to be doing now to stay ahead of the next growth cycle," Mr Eglinton said.
Big decisions coming up included opening up a new growth cell in Peacocke, which, over its lifetime, will provide 7000 extra homes.
Mr Eglinton said this would cost hundreds of millions initially and take up to a decade to complete, and these steps could be brought forward if Hamilton secures a good slice of the $1 billion interest-free pie put forward by the Government to supply infrastructure to high-growth areas.
"However, this is not a free lunch and would eventually come back on the council's books as housing development takes place," he said.
This process must begin within the next two years to keep pace with growth, he said.
MAYORAL CANDIDATES HAVE THEIR SAY
We asked mayoral candidates for their take on managing the city's rapid growth. Here's what they had to say.
Chris Simpson said council's estimates of needing 1000 new homes annually was too low, with his own calculations of population demands putting the number at around 1500 and feedback from the developer community putting it as high as 2000 each year.
"There's quite a disconnect between delivery and what's actually needed. That's showing through in the sense of supply and demand and that in the last two years there's been a nearly 40 per cent house price growth.
"Demographics is not a perfect science, but you have to deal with what's here right now and that's 3800, so you look at that going forward."
On the skills shortage, Mr Simpson said it was a case of central government allowing immigrants with the relevant skill set to enter the country.
From discussions with developers Mr Simpson said there was an opinion that council was too slow in bringing sections to the market despite development contributions having been paid.
"It comes back to looking at, if we are going to be growing by 40,000 in the next decade then sections are going be used up pretty quickly so we are going to have to start looking at different growth cells. It's not an and-or, it's an and-and."
Council city growth general manager Kelvyn Eglinton said there wasn't a direct correlation from multiplying the numbers in population increase directly informing the dwellings requirement.
"The model we use to inform our dwelling supply over a 10-year period and updated annually makes assumptions about the household size, due to localised information available about dwelling demand in Hamilton, age and family structure," he said.
"Additionally there are other migration assumptions and spatial allocations of growth which input in to the model which can influence dwelling projections one way or another."
Paula Southgate said council had to work in with government and developers to address the issues of affordability and availability of housing.
"There's no silver bullet to this problem, it's a problem that lots of parts of the country are experiencing. Having said that there are some roles for Hamilton City Council to play."
This included putting in a strong bid for the $1 billion housing infrastructure fund to begin putting in core infrastructure and revisiting the Housing Accord which gave councils the opportunity to streamline consent and plan changes for areas designated as special residential housing areas.
"In 2015 Hamilton was listed as one of the cities that could pursue a special housing area and enter into an accord. I want to look into that to see if there's any opportunity," she said.
To address skills shortages Ms Southgate said council had to work closely with educational institutes in Hamilton to make sure they provided skills for the city's future needs.
Andrew King disagreed that new sections and houses appearing on the market was out of council control.
"The measure isn't how much land that is available for subdivision. The question is how many titled sections are available for the public to buy today. So we have dropped the ball.
"All the public are interested in and all that I am interested in is are there a surplus of sections available on the market, because when there's not the shortage of sections is pushing the price up and that is pushing the price up of housing right through the whole of Hamilton."
Mr King said sections and house prices had gone up $200,000 on average in recent times and said any greenfield developer would tell you there was a shortage of sections.
Developers delaying release or land banking was a red herring, according to Mr King, who said developers were working as hard as they could to release land quickly.
He said comments that skills and material shortages were to blame was council passing the buck.
"What has trades availability got to do with the fact you can't buy a section in Hamilton? The bottleneck here is section availability."
The skyrocketing prices, in Mr King's opinion, could have been avoided should council have put in appropriate infrastructure to areas such as Peacocke sooner it would have created greater competition between developers and therefore reduced price.
He said it was essential to cash in on the $1 billion government infrastructure fund to open up Peacocke, and said Hamilton should aim for a $200 million slice.
Rob Pascoe disagreed with Mr King and said council was in a strong position and that there had been a significant catch-up by council in the past three years to make up for delayed projects.
"If the land is ready for development it's really up for developers to do what they need to do and get the land to market."
Mr Pascoe said he intended to bring up concerns around land banking of some properties at yesterday's council meeting, but said there was little council could do to pressure sales.
"The answer is to open up more residential cells and Peacocke and advancing Rotokauri," he said.
James Casson said land had to be released in the south of the City.
He said a lack of skills should be addressed by bringing in extra builders from overseas and that he did not believe there was a shortage in building materials.
Arshad Chatha also pointed to the $1 billion interest-free loan to a few city councils including Hamilton for infrastructure.
"I would be in favour of applying that loan for sustainability of the growth and economic development of the city."
Jack Gielen said there should be less red tape in the District Plan and the $1 billion infrastructure fund could be a big help.
Mr Gielen said he supported high-rise apartments in the central city.
"I've seen where they advertise on TV you have all these garages for sale for $10,000. They could be converted into homes. What about brick houses - that's an alternative form of making homes," he said.
"We could do something at the council to regulate the charges for rent to make them more affordable. Property developers need to be answerable to the people, because they are a law unto themselves.
"I think council could work in to put restrictions on them and ensure they built homes for the people. It's an elitist problem with the rich getting richer and there's no redistribution of wealth or trickle down."
Mr Gielen also suggested an additional tax or capital gains tax that could be directly funnelled into providing more new homes.
Mr Geilen said neither a capital gains tax or rental cap were levels that local government could introduce.