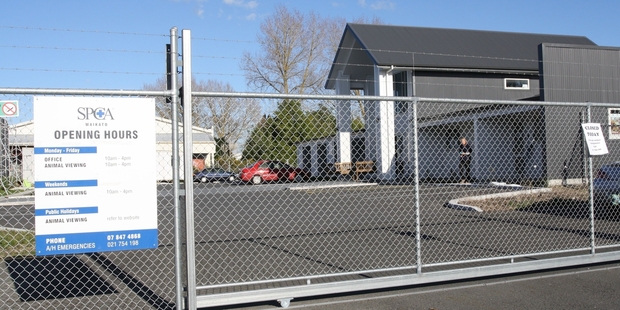 Waikato SPCA appears to be beseiged by financial woes.
According to the organisation's most recent annual report, Waikato SPCA has gone from operating with a $24,000 surplus at the end of the 2014 financial year to a net loss of more than $390,000 at the end of the 2015 financial year.
Contributing to this deficit was an increase in wages and salaries from $492,000 to $627,000 - an increase of 27 per cent - and legal expenses which rose from under $5000 to more than $31,000.
Other notable differences between the 2014 and 2015 report included an almost 50 per cent increase in spending on staff training, bringing it up to more than $8000, and a 25 per cent decrease in donations, which fell from $105,000 in 2014 to $78,260 in 2015.
According to the Waikato SPCA Facebook page, there have been a number of closures of the cattery and kennel in recent weeks and when Hamilton News approached the Waikato SPCA premises on Tuesday it was closed. It was also closed on Wednesday.
A spokesperson from the SPCA national office said the Waikato branch had a scheduled close this week to perform a deep clean of the centre and would open again for usual hours on Thursday.
While the movement to a new premises on Northway St in Te Rapa may have contributed to the financial deficit, the annual report noted that "the move to our new premises was made with little cost to the SPCA, due to a huge amount of in-kind help".
Hamilton News had scheduled interviews this week with both RNZSPCA chief executive Ric Odom and members of the Waikato SPCA committee on Tuesday, however none of them were able to be reached on the day. In a statement by email, an SPCA spokesperson said it was common for community organisations to have financial challenges and that the previous year's deficit was being addressed.
"The RNZSPCA and SPCA Waikato committee are reviewing costs and operations and developing a plan for the Centre. As always the focus is on continuing to provide animal welfare services to the Waikato community," they said.
Hamilton News has previously attempted to reach Waikato SPCA executive officer Sara Elliot-Warren but was unable to make contact with her. A national spokesperson said Ms Elliot-Warren is currently on leave.
Waikato SPCA chair Victoria Whitfield would not comment on the absence, stressing it was an employment matter and therefore confidential.
The Waikato SPCA's op shop wages may have contributed to the increased wage spending, having more than doubled since 2014, going from $35,000 to over $74,000.
The annual report notes that op shop worker levels had to be increased to cope with workload.
A number of grants showed marked increases and a newly introduced direct mail fundraising brought in $10,000 extra for the organisation, however these were not enough to balance the books, which the report describes as "strained".
The report notes that positive animal (by rehoming or returning to owner) outcomes had risen from around two-thirds in 2013, to 87 per cent in 2015.
A note from the previous chairperson Linda Cooper notes that each year the branch must review what it can and can't afford.
"This may or may not impact on whether we can hold this high number of animals.
"Some of our public can be an unforgiving spouse, wanting us to save and take in every animal but on the other hand unwilling to fund this."
In 2015 Waikato SPCA cared for more than 2600 animals with more than 900 cases dealt with by inspectors, resulting in 3500 animals receiving care or intervention.
The organisation was the subject of an MPI investigation over six alleged offences under the Animal Welfare Act 1999.
The investigation was conducted between October 2015 and January this year and included a review of previous interactions with complainants, a review of documentary evidence, and SPCA and MPI staff. It concluded there was insufficient evidence to support charges and a meeting in March found no follow-up actions were required.