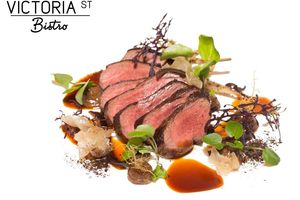 Andrew Clarke and the team at Victoria Street Bistro have proved a formidable force, not only gaining two hats at the Cuisine Magazine Good Food Guide last week, but also winning the Waikato Food Inc Matariki Dish Challenge for the second year running.
Andrew's dish, Pakoire Moa, creatively used ostrich to imitate moa, pakoire meaning imitate.
As well as gaining two hats at the Cuisine Good Food Guide awards, Victoria Street Bistro was also named runner-up in the Stuff.co.nz Best Regional Restaurant category.
"I wanted to create a dish that reflected the true terroir of the Waikato region making use of the abundance of native flora available during the course of Matariki season," said Andrew.
Nikau Caves took out the People's Choice award with their uniquely presented Nga Kai a Matariki -- The Foods of Matariki which highlighted both in season and truly local produce.
The challenge, now in its second year, dares local chefs to create a dish that both highlights local produce and Matariki.
"This year we have not only received almost double the entries the calibre of these was outstanding; a true reflection of the fabulous talent we have in the Waikato," said Waikato Food Inc chairperson Vicki Ravlich-Horan.
This year the standard was so high that, along with the Supreme and People's Choice winners, two finalists and two highly commended were awarded recognising how tight the competitions was.
"The challenge is a great chance for Waikato Food Inc to highlight the array of superb restaurants and cafes we have in the Waikato as well as an opportunity for the local industry to grow and improve," said Vicki.
The challenge takes into account not only the chef's culinary creativity and skill, use of local ingredients and reference to Matariki but the service, staff knowledge and their ability to up sell as well as the eatery's understanding of their business and target market.
"One of Waikato Food Inc's main goals is to help local food and hospitality businesses flourish and this challenge is a great opportunity for those entering to up-skill and challenge their team on all fronts," said Vicki.