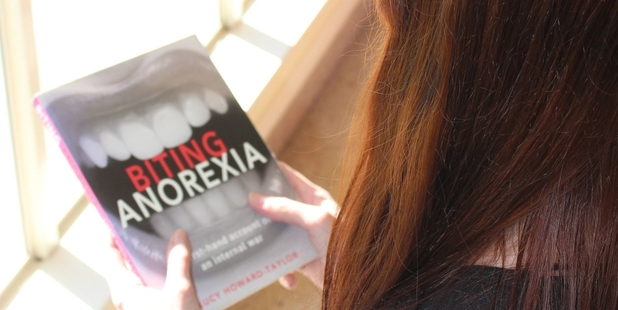 Waikato woman Claire was 13 when her battle with eating disorders began.
Twenty years on, her kidneys and liver are damaged, her heart has shrunk. She has a row of false top teeth having lost her own thanks to the toll bulimia and malnutrition has taken. Claire's bone density is that of an 80-year-old.
"I thought I would grow out of it - or at least get things under control," Claire says.
But she didn't and hasn't.
Claire has been in and out of hospital, has seen multiple therapists. She's hit rock bottom more than once.
She has had two minor strokes in the last year, and suffers hypoglycaemia - deficiency of glucose in the bloodstream.
Because of this she's fallen into a hypoglycaemic coma twice and lost her driver's licence because of it.
"I was at risk of flaking out and crashing my car. Now I'm 4-5kg above the weight at which I would lose my licence again."
Claire is no stranger to another facet of anorexia - over-exercising. She used to exercise 12 hours a day at her lowest and sickest point.
"I'm now the laziest person in the world. I sleep a lot."
While anorexia is hard on her body, it's also been hard on her relationships, especially so with her partner of more than eight years.
"He's at a point where there's only so much he can do.
"You get to a point where you can't keep going - that I would rather die. There have been three times in the past 18 months where, if my partner hadn't stepped in to distract me from doing something stupid ... that well... I probably would have done something stupid."
Despite all she has been through Claire is adamant that she doesn't want to spend the rest of her life - however long that may be given the issues with her organs and her mental health - like this.
The problem, Claire says, is that the public health system doesn't allocate nearly enough funding to treat eating disorders.
She says that while the government channels millions of dollars into the obesity epidemic, those with eating disorders such as bulimia and anorexia are being overlooked.
"It seems help is hard to get unless you are young, financially well off or live in the right area," Claire says.
"I don't meet any of the criteria. The more I explore what help is out for there for a 30-something chronic ED sufferer, the less I am concerned about my personal situation and the more I am concerned for others also struggling and the young ones who will inevitably follow once they become too old for the child and adolescent services."
Hospital, Claire says, will fix you physically but not mentally. "Therapy on its own won't help a chronic condition either. If we were in America or even Australia it would be easier to access help."
Claire says a wraparound service would be ideal for people in her shoes - a rehab facility of sorts that monitors patients closely and offers intensive, regular therapy sessions.
"I need to be somewhere that I can't hurt myself or throw up ... where I have to eat. You can try and set those rules in your own home, but it doesn't work."
Even a 24/7 helpline, akin to the one that operates in Australia, would be a start, Claire says.
"I end up talking to friends and family and they can't help really. There are no support groups, though they can be destructive because this is a competitive disease."
Claire also questions why New Zealand doesn't have an awareness week for eating disorders.
"That would go a long way to improving awareness."
Ministry of Health director of mental health John Crawshaw said between 2010 and 2013 $26 million was invested in helping those with eating disorders, with 75 per cent of that funding going to Northern and Midland regions.
Mr Crawshaw said across the country services were available to all ages, but best-practice treatment differed for adults.
Current models follow a care continuum which begins with GPs, who provide preventative and early interventions, specialist services which provide in-patient admissions and psychological therapies, residential care and day programmes and also home-based support.
Mr Crawshaw said obesity and eating disorders could not be compared, because while one is a serious disorder affecting a comparatively small number of people who need a range of specialised and intensive interventions which can be acute, the other is a large scale population problem with long-term consequences.
"Both are priorities for government and both are being addressed," he said.
Waikato DHB Specialist Eating Disorder Service (SEDS) clinical leader Lynne Blake refuted allegations that eating disorders received less funding than obesity.
"Obesity may be on the news all the time, but there's not a lot of funded specific treatment for obesity," she said.
According to Ms Blake the comparatively small incidence rates of eating disorders combined with the high mortality risk puts services between a rock and a hard place.
"You have lower numbers compared with other mental health services, so to establish a larger service requires consistently larger numbers to enable provision of specialist treatments. There's great difficulty for the funders in that respect."
The most current figures put prevalence of anorexia nervosa at around 0.5-1.5 per cent of the population, and bulimia nervosa between 3 and 5 percent.
She said their service could go weeks with low number of referrals and then have many all at once.
"There is a service in Hamilton which covers the whole Waikato DHB, and three residential services in Auckland, Wellington and Christchurch. Across the nation there are also Eating Disorder Liaison clinicians in each DHB who support eating disorder treatment being provided in mental health teams," she said.
Hamilton currently has only one funded hospital bed for sufferers of eating disorders but Ms Blake said other beds could be sourced if needed.
Ms Blake said her team supports patients who were medically unstable in medical wards and can also use the Henry Bennett Centre for longer-term admissions.
An added difficulty to providing care Ms Blake identified is that clinicians may shy away from getting involved because of the high mortality risk.
"They feel they don't know what to do, but if you look at it as being on the anxiety continuum, where the client's extreme anxiety of getting fat is confronted when you're trying to get them to do the thing they most fear which is eat."
SEDS provides two-day training sessions twice a year to help train others within the DHB and NGOs working in the field.
Treatment for eating disorders often requires a variety of psychological and physiological specialists which means it can be difficult for individual clinicians to provide treatment for those who are very unwell, Ms Blake said.
"We are confronted by the effects of starvation, and those will often be behavioural and psychological as well as physical."
Ms Blake said eating disorder services could always use more funding, but said competition from other mental health areas was always an issue.
Ms Blake advice to anyone suffering from eating disorder should contact their GP, or contact her via the Waikato DHB on 07 834 6902.
According to Eating Disorders Association of NZ (EDANZ), eating disorders have the highest mortality rate of any mental illness.
Where to get help: In an emergency: call 111 Lifeline: 0800 543 354 (available 24/7) Suicide Crisis Helpline: 0508 828 865 (available 24/7) Youthline: 0800 376 633, or text 234 (available 24/7) EDANZ: 0800 2 EDANZ or (09) 5222679.