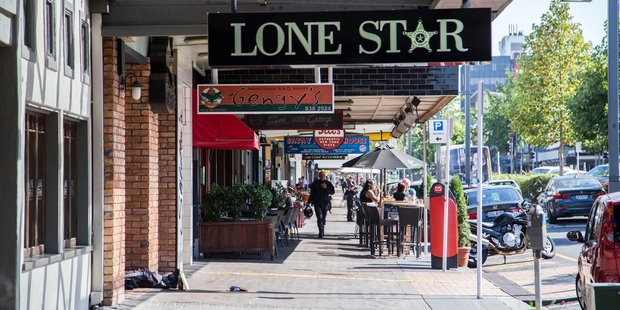 Perceptions of safety in the central city seem to be improving, according to the Hamilton Central City Safety Plan's 2016 annual report.
Now in its second year, the report showed mostly incremental improvements, with the greatest area of reduced concern among residents being crime.
However the report did highlight areas of improvement. One of these included training Central Library workers to deal with anti-social behaviour.
City Safety manager Kelvin Powell said there had been a number of incidents in libraries across the city and now was an opportune time to start training and increase collaboration with City Safe.
"We have had to trespass people out, there have been threats, been arguments over access to WiFi and about people over-using allocated computer time," Mr Powell said.
Security guards are in place at high-risk times, Mr Powell said.
There was also a slight rise in concern over youth behaviour in the central city. Council's community development and leisure manager Deanne McManus-Emery said a big contributor was the Netcafix internet caf in Garden Place which attracted youth of 18 and 19 whose age meant they sat outside the parameters for existing agencies.
Speaking outside the meeting Ms McManus-Emery said Te Wananga o Aotearoa held a service delivery contract with Ministry of Social Development to deliver youth transition services.
"Essentially, that is moving young people into either education, training or employment. The age range for this service is 15 to 17 year olds.
"People aged 18 to 19 sit outside the youth transition arrangement because they are eligible for full-time employment or tertiary education."
Ms McManus-Emery said ideas for combating the problem included working with youth organisation Zeal and applying for funding from the government for additional resources.
Councillor Andrew King questioned the report's reliance on people's perceptions of safety, but Mr Powell said the surveys were backed up with fact.
"Crime in the central city ... there's been a 30 per cent reduction in the first year and a further 2.5 per cent reduction in the most recent year. The nature of the 0800 calls that come in to City Safe and you look at the breakdown of the calls, these are becoming less about offending and more about providing information," he said.
The success of the People's Project received commendation from a number of councillors, and Wise Group chief executive Julie Nelson, who oversees People's Project, said other areas of New Zealand could learn from the model.
"Of all the people we have housed we know 93 per cent remain housed and we know 80 per cent are in the private sector and 20 per cent are in social housing."
Councillor Leo Tooman asked if the People's Project was beginning to be a victim of its own success, with a backlog seemingly developing from the homeless of other cities flooding in.
Ms Nelson said the Project was seeing a small migration from Auckland and elsewhere in the country, and it wasn't just rough-sleepers but also those in unsuitable accommodation like garages appearing.
"As we start to chip away at some of the folk that have been obviously homeless there are other that we are also starting to work with," she said.
Council's Tagbusters team removed almost five and a half rugby fields - 45,701sqm - of graffiti within the city, with 97 per cent removed within two working days during the past year. Mr Powell said this was a decrease from the previous year.
"We have been working with Police and intervened in some opportunities and put people before the court, and these were people who were significant repeat offenders. The total number of jobs of 5859 is down from 6591 the previous year."
The Central City Safety Plan was this week honoured as a category winner at the Local Government NZ Excellence Awards.
The Plan won the Fulton Hogan Excellence Award for Community Engagement.
Since the start of the Safety Plan, The People's Project has helped house 211 people, with 93 per cent of them still in homes.
The only negative indicator in the report came from central businesses' opinion of how Council responded to safety concerns.