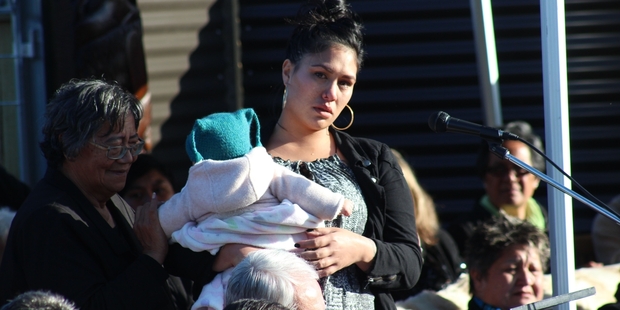 Hamilton's sixth Women's Refuge safe house opened on Monday, providing additional emergency housing for up to five families in the Waikato.
The opening began with guests welcomed onto the site with a waerea, a protective karakia, and a plaque unveiling with the help of Heeni Paki, sister of the Maori King, dedicated to Lady Judi Gallagher, the patron of the refuge.
Speaking after a mihi MC for the event Glenn Tupuhi said the refuge was "a sanctuary from the storm" and "a gift from the community, packaged and presented with the utmost humility and care".
Mr Tupuhi acknowledged the work of inmates at Waikeria Prison who helped refurbish the building.
"This was not just a great way to get out of prison during the day - these men knew why and had a personal reason that drove their desire to come and put something back, especially into this field."
Te Whakaruruhau Waikato Women's Refuge currently manages five safe houses, supporting 65 women and their children from all ethnic backgrounds from throughout the Waikato region.
Refuge chief executive Roni Albert thanked Refuge chair Annah Stretton for calling in every contact she had to get help to finish the project.
"This home will accommodate up to five families - that's legally - and give them a chance to work towards living without violence," she said.
She called for new government legislation which would allow women to leave violent relationships.
"Stop holding her responsible for not being able to protect her kids, or imposing consequences on her for damages she did not do, or expecting every women should have the strength or confidence to walk away from an abusive relationship."
Former Refuge user Taydia Heta-Morris spoke at the opening ceremony, emphasising the importance of similar buildings and the service they provide to help women escape abusive relationships.
"I wanted out but I didn't know how. I didn't know how to get out. I went to rehab in Auckland and came back down to Hamilton. After a while I was able to let go of the drugs but I wasn't able to let go of the relationship."
Ms Heta-Morris said she had hope for her future now which she never had before.
"I wouldn't be where I am today without their help, especially from Roni. They loved me until I could learn to love myself."
The most recent house has taken several years to complete due to funding difficulties, and provides 10 bedrooms.