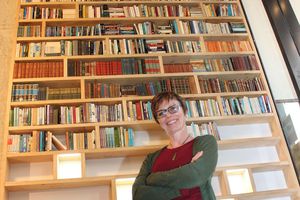 Browsers Bookshop opens on Monday and Hamilton News got a sneak peek into the Hamilton icon's swanky new digs.
The centrepiece of the new premises is a 21-storey bookcase built by cabinetmaker Andy Freeman which stretches more than seven metres to the ceiling above.
The famous hidden doorway will make a reappearance, tucked away in a corner and relocated bookshelves from the old site have been moved into the new space, lending a little nostalgia to the polished concrete floors and modern steel and glass.
Browsers owner Rachel Pope said the old couches would be gone but a number of chairs would still be dotted about.
"It's a different environment but it still has the essence of who we are."
This is reflected in a little surprise hidden on the fourth shelf from the top of the new giant bookcase.
"In Lincoln Cathedral right up high there's what's called the Lincolnshire Imp, which was some stonemason hundreds of years ago being naughty and carving an imp into the roof. It's a tourist attraction now so this is my little piece of personality."
Another feature which is sure to prove popular will be the new children's section, which houses a in-built sofa within the bookshelves.
Rachel said she had been overwhelmed with the support she had received from the community.
"It's all just unfolded really well. For example the volunteers... when the article came out about our 20 year anniversary the day after two blokes turned up and said 'yep, we want to help'. I hadn't even thought about the move but I took their names and numbers and slowly over the next week I just kept getting these people coming in and offering.
"I didn't know how to take it but the more people who came in and the more my diary filled up I realised these people are real and enthusiastic so why wouldn't I accept their help?" she said.
Twenty students from Hamilton Boys' High School did some hard yards on Wednesday, helping carry 43 bookcases and a Tin Tin rocket bookshelf across the road to the new premises in Matt Stark's Riverbank Lane development.
"It's quite physical moving books around so they all worked really hard."
Without the extra help Rachel said she would have had to close the old shop far sooner and possibly bring in professional packers.
Rachel's partner Rob Neish said the community spirit was astounding.
"You wouldn't see Harvy Norman customers helping them move," he said.