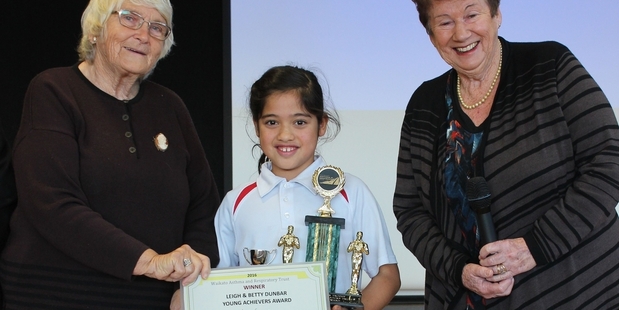 A Te Totara Primary School student is this year's star pupil for the Asthma Waikato award.
Tia Whanga, 8, was last month awarded the Leigh and Betty Dunbar Young Achievers award by Asthma Waikato for staying positive through tough times.
The Year 4 student was nominated by her teacher Natalie Gillies for her positive attitude and eagerness to achieve her goals.
"Even when Tia is faced with adversity through illness, she still manages to have a positive outlook and even lifts the spirits of those around her," said Gillies.
Tia's mum Jen Whanga, who has six other children, said she was very proud and had tried to keep the award a secret, but Tia eventually found out.
She said Tia was really excited because when she was sick she had prayed every night for something good to happen.
Tia has dealt with asthma since she was about 18 months old, and in 2015 had several asthma attacks as well as glandular fever, chest infections and strep throat.
Due to this she missed six months of school, and had to catch up to the other children in her class.
Gillies said Tia has come a long way in her study and is now working at the same level as her classmates.
Tia is the second child to win the award and was given a cup, a trophy to be displayed at school and a $200 Whitcoulls voucher.