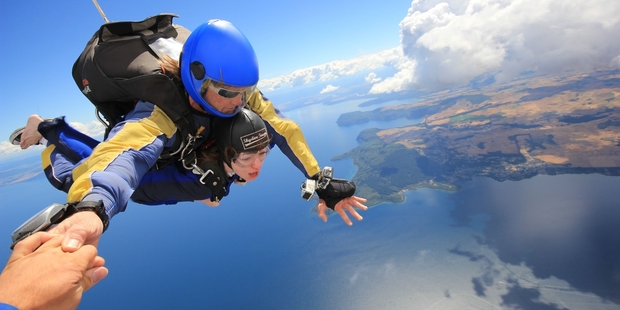 Ever felt like telling your boss to take a flying jump?
The Waikato/Bay of Plenty Cancer Society is looking for at least 24 fearless fundraisers to do a tandem skydive in the name of charity, with workplaces also being encouraged to raise sponsorship to "toss the boss", earning their chief executive or senior manager a spot in the plane.
Teaming up with Skydive Taupo, the society's fundraising manager Catriona Findlay says Jump for Cancer is the first time the Waikato/Bay of Plenty division has offered a skydiving incentive for thrill seekers who also want to fundraise for the Cancer Society.
Fundraisers are required to raise a minimum of $800 in exchange for a 12,000 feet tandem skydive or $1000 in exchange for a 15,000 feet tandem sky dive with one of Skydive Taupo's professional skydiving instructors.
"Obviously with the incentive of a free skydive this challenge will appeal to intrepid and adventurous fundraisers. We also suspect the "toss the boss" concept might gain some traction in workplaces whose staff, even jokingly, have ever entertained the thought - it's definitely team building with a difference," said Catriona.
Alternatively, if a fundraiser has a loved one who has always wanted to skydive they can nominate them to take their place.
Sunday, August 7 is earmarked for the mass jump in Taupo with August 14 as a rain day.
Catriona said Jump for Cancer has been scheduled during Daffodil Day awareness month, which culminates with Daffodil Day - the last Friday in August. Daffodil Day is the Cancer Society of New Zealand's biggest fundraiser of the year.
"This is your chance to experience the ultimate adrenaline rush in one of the world's most stunning drop zones while supporting an amazing cause. We're really thrilled Skydive Taupo has come on board for this."
For more information and to sign up go to www.everydayhero.co.nz/event/jumpforcancer