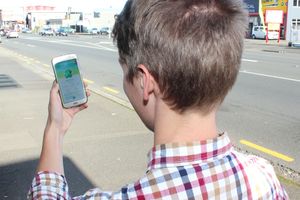 Since the mobile game Pokemon Go launched in New Zealand a week ago it has dominated the headlines and it seems Hamiltonians are not immune from the hype.
From players suffering injuries at they wander into inanimate objects, looking up and finding themselves in Hells Angels' territory, stopping traffic or renting kayaks to battle gyms in Wellington Harbour, it seems Hamiltonians are just as enthralled by the app which has already reputedly surpassed the popularity of Tinder.
In Hamilton's most recent show of affection for the mobile app, a Pokemon Go walk has been scheduled for users to explore the Hamilton Gardens in pursuit of catching them all.
To be held tomorrow from noon, the Facebook event had more than 700 attendees on Tuesday, with an additional 2000 users listed as 'interested'.
There has also been a Pokemon Go Hamilton Facebook page set up by fans which already consists of more than 200 members intent on sharing tips and locations for the new game.
The app itself is an augmented reality game in which users attempt to catch pokemon.
Depending on the GPS location and time virtual pokemon will appear on the phone's screen, and users are able to use pokeballs to capture them.
Which pokemon appears depends on time and location, and the purpose is to encourage players to travel around the real world to catch Pokemon in the game.
The Pokemon Go Hamilton group administrator, who wished to be known only as Zayne, said the game was as close people could get to becoming a real pokemon trainer.
"Which I'm sure a lot of us that know Pokemon have dreamed of at some time or another. The travelling, the community, the rewards, the battling and the Pokemon themselves."
He said the game had taken off largely because of the nostalgic feeling amongst young adults.
"Mostly we're all familiar with the Pokemon franchise made popular in the 90s by the Game Boy games and it anime counterpart," said Zayne.
"The game uses your camera and places the Pokemon in front of you making you feel like your in the same world. They will pop up nearly anywhere which encourages you to get outside.
"There are also Pokestops, which are usually placed where there are landmarks, statues, building etc where you get perks and items to help you during the game. Pokemon Gyms are also placed around which is where you battle with or against people."
Zayne said he couldn't keep count of the events popping up around Hamilton.
"From Facebook events, closed groups of friends, anime clubs to uni/tech student events. It's ridiculous how much this game has taken off," he said.
"It's growing at a good pace which is awesome. People seem to be really keen to help each other answer questions. But mostly the page will be used to bring Hamilton and Waikato players together to share, talk or what ever being relevant to the game or just Pokemon in general," he said.
The Facebook event page can be found at www.facebook.com/events/524906011051125/.