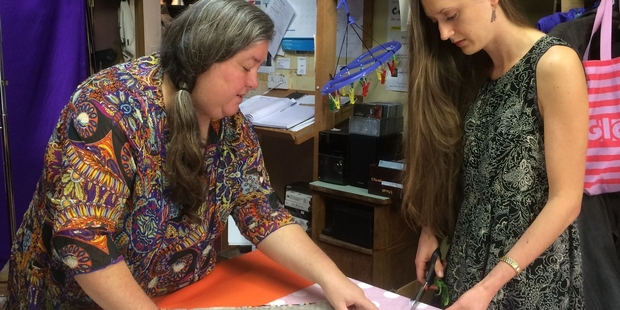 The show won't go on, but two Wintec fashion students are staying positive by volunteering at Hamilton Operatic Society anyway.
Rose Sidwell and Brydie Senior, who are working at the Operatic Society in the costume hire shop, were set to volunteer for the Mary Poppins show, which was cancelled when Founders Theatre was closed earlier this year because of an unsafe flying system.
"We knew that Founders Theatre was kind of unstable, but I'm sure we will get something better in the end," Rose said. "I try and look at it as a positive."
Rose was meant to perform in Mary Poppins and Brydie had hoped to be on the wardrobe team.
"I was really excited for it, but with the next show hopefully I can sign up for the wardrobe team as well," Brydie said.
At the moment the students are focusing on the shop, designing costumes for the Society instead.
The shop has an extensive collection of costumes all crammed into one room at Clarence Street Theatre. They supply for shows and performances as well as events like parties, conferences and fundraisers.
Wardrobe manager and teacher Joy Wright says the Society gets a range of volunteers each year who help out in shows, the shop or both.
The shop volunteers are usually students and people who need experience for their CV or are trying to get back into the workforce.
"They learn lots of things about the types of materials that are available and the different time periods, which can really boost their knowledge," Joy said.
The experience also allows volunteers to make contacts with people in the theatre world.
Brydie said the opportunity has helped her confidence and has allowed her to be more playful with her choices of fabrics and styles.
"I'm doing a fashion degree, but there is only so much people are going to wear out on the street, whereas in costuming you can put all sorts of doodackies on things."
At the moment Brydie is working on a Roman soldier costume and Rose is redesigning a 1920s beaded garment.
They both do not know exactly where this experience will take them, but hope it will "open other doors".