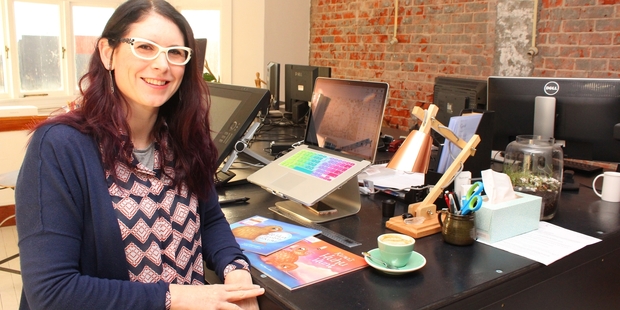 Spoilt for choice, say this year's judges of the 2016 New Zealand Book Awards for Children and Young Adults as they selected the 28 finalists announced earlier this month.
And among the finalists, up for three awards, is Te Awamutu author and illustrator Kat Merewether.
In the picture book category Mrs Merewether's Kuwi's Huhu Hunt is up against Stripes! No, Spots! by Vasanti Unka and The House on the Hill by writer Kyle Mewburn and illustrator Sarah Davis.
And the Te Reo version of her first book - Kuwi's First Egg - is a finalist in the Te Reo Maori Te Kura Pounamu Award (Children's Choice) and Te Reo Maori Award.
Te Hua Tuatahi a Kuwi was translated by Pania Papa, Mrs Merewether's colleague from working at Te Wananga o Aotearoa.
It was only a little over 18 months ago that we featured Mrs Merewether's story about her first book - Kuwi's First Egg - the story of a confused first-time mother Kiwi who has found herself alone with her new egg.
She explained she was inspired by her own struggles with the perils of being a young mother.
"There is just so much to learn as a mum and it's easy to make mistakes.
"I felt like I was pretty clueless really," she says.
The book became a success and Mrs Merewether was in demand for book readings and other events - and in October last year was signed up as an official ambassador for Kiwis for Kiwi.
That success resulted in many other unexpected developments, including the second 2016 New Zealand Book Awards for Children and Young Adults nominated Kuwi's Huhu Hunt, which follows the kiwi mum as she searches high and low for a huhu grub to feed her beloved chick, Huwi.
Both books appeared on the 2015 Nielsen Overall Bestsellers List for a combined total of 29 weeks.
Kuwi's First Egg was released in Te Reo as Te Hua Tuatahi a Kuwi and just last month she released Kuwi's Creative Colouring Book at Paper Plus Te Awamutu.
Mrs Merewether says it has been a bit of a crazy ride, but most worthwhile. The Book Awards nomination and making the finals is very exciting - especially considering the competition.
Mrs Merewether's books are self published by Illustrated Publishing and she says it is always harder for the small player.
Even though she is a finalist in three categories, media is concentrating on works from the established publishers.
But she is also proud to be making inroads into that world.
She says support is fantastic.
She likes to launch her books locally and is always supported by Paper Plus Te Awamutu, as well as Otorohanga Kiwi House.
Her long association as illustrator for musician and author Aunty Bea means her work is in demand in Rotorua, and as word spreads, independent outlets especially like to carry her books.
Mrs Merewether says the success to date doesn't mean she can give up her day job - design and illustrating is still important.
But the venture into publishing has been rewarding.
As part of being a New Zealand Book Awards for Children and Young Adults finalist she will be part of a finalist authors' tour which runs nationwide from August 1-9, appearing in schools, libraries and bookshops.
The winners of the 2016 New Zealand Book Awards for Children and Young Adults will be announced on Monday, August 8 at Circa Theatre in Wellington.
Te Awamutu Courier