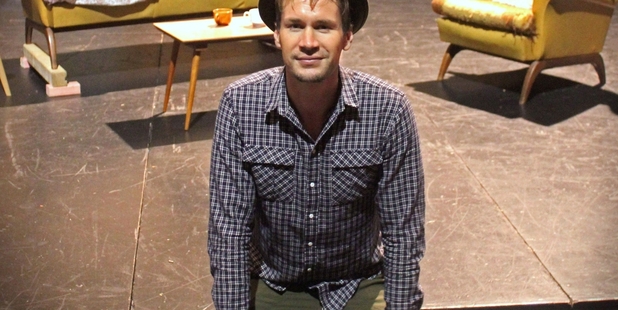 Matthew Walker played Justin Jefferies in Home and Away, directed Pamela Anderson in a documentary and Annie Lennox in a music video, and on July 1 the Waikato-born artist will make his debut as a theatrical director in Hamilton.
Matthew, home from the bright lights of Los Angeles, is directing Hamilton's next big stage production, Hot Water. It's a comedy by one of New Zealand's most successful playwrights, Roger Hall, and is being performed at Clarence Street Theatre next month.
According to the theatre's general manager Jason Wade, rarely does such a small theatre see such sizeable talent.
"Matthew is one of Hamilton's finest creative successes. Born and bred here in Hamilton, he has spent the last 15 years forging a highly successful international career on stage, screen, and behind the camera.
"In 2004 he graduated from Sydney's National Institute of Dramatic Art where Cate Blanchett, Mel Gibson, and many international actors studied. Over 3000 people audition annually for one of 20 spots.
"His acting career has since included major roles in many Australian prime time dramas including Home and Away, Headland and Legend of the Seeker.
"He's also toured throughout Australia with Sydney Theatre Company, Bell Shakespeare, and Griffin Theatre Co."
In 2013 Matthew made the transition from in front of the camera to behind it when he accepted a role as associate director in Las Angeles.
"Working for LA's Dig For Fire Productions, Matthew has worked on documentaries with the likes of John Legend and Pamela Anderson, and music productions with Annie Lennox, and Rod Stewart."
"We couldn't be more proud to have him back in Hamilton to direct this New Zealand play at Clarence Street Theatre."
Matthew agreed to direct Hot Water soon-after returning home to Hamilton late last year.
"I've directed documentaries, shorts films and commercials while overseas but Hot Water will be my first theatrical piece. I'm proud to soon unleash this New Zealand piece here in my hometown of Hamilton."
The story is set in the mid-1980s at a bach on the shores of Lake Taupo. It is written about New Zealand for a New Zealand audience.
"The dialogue is witty, sharp and laugh out loud funny, while also dealing with serious topical themes of racial stereotyping, Maori land disputes and financial hardship in the agriculture industry," Matthew said.
"Having worked and trained professionally overseas for nearly 15 years I am always astounded when I return home to New Zealand by the sophistication of talent across the board in NZ productions.
"From writers, designers, actors and directors, across to producers and production managers the level of talent and professional standards in our local productions can be considered nothing other than world class. I feel privileged to be part of this New Zealand production."
The production stars local performers such as Sarah Nathan, Nick Wilkinson, Falstaff Dowling-Mitchell, Natalie Swart, Ray Powell, Antony Aiono and Jan Hedge.
The production is particularly timely, with 2016 marking the 40th anniversary of Roger Hall's first professional play.
Hot Water will show at Clarence St Theatre from July 1-9. Tickets are available from Ticketek and from $19.90.