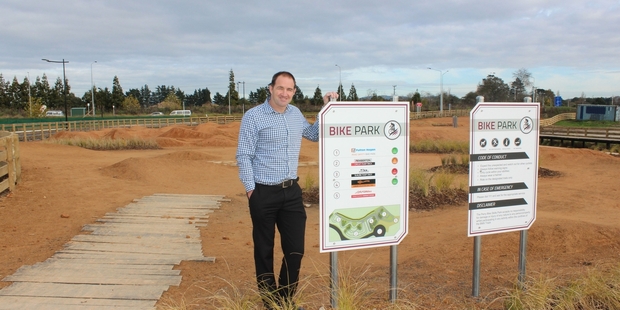 A new bike facility to educate young children on road safety will open on June 26, and with the closure of the Perry Group sand quarry it is the first in a number of adventure activities coming to the area.
The new bike facility, behind the BP service station beside the roundabout at Hutchinson and Te Rapa Rd, is being constructed by Brian Perry Charitable Trust with support from Fulton Hogan, and will sit alongside a second off-road BMX park designed by professional BMX rider Paul Langlands.
Perry Group CEO Richard Coventry said the two parks had cost around $350,000.
"The children's park will have road markings on it similar to the bike park in Cambridge. It's for the young kids to learn road rules, and how stop and give way signs work. We were going to put traffic lights in but that can prove problematic."
Richard said the retail unit overlooking the two bike parks would house a cafe, allowing parents to enjoy a coffee while their children rode their bikes.
"It will be free to the community and if schools want to use it to teach they will be more than welcome to," he said.
Beside the cafe and park there will also be an open exercise area, with outdoor cross-trainers and other pieces of free equipment donated by Life Fitness.
Although not yet open, the BMX park was already being used by cyclists from the nearby the Te Awa cycleway, Richard said.
The Perry Group sand quarry was closed in April after more than 20 years of operation and the plant sold to Waikato Aggregates Ltd.
Richard said it had freed up the site for adventure activities and possible residential development.
"It's all currently zoned industrial but our plans include more adventure activities. We want to create a cable ski lake as an anchor to an adventure park while having a number of other activities around it."
The artificial lake will have a number of towers from which water skiers will be pulled.
"Simon Perry is pretty passionate about Hamilton and the Waikato and he felt he wanted to give a bit back. The site's been a quarry for a long time so there are some lakes which have been created which we want to make use of."
Richard said the point where Te Rapa Rd met State Highway One would become the gateway to Hamilton, and he foresaw the possibility of residential properties along the Waikato River portion of the site.
"We are working with Council at the moment and they seem pretty positive. There are a number of affected parties. Fonterra are down the road and NZTA, Tainui of course, but all the conversations have been pretty positive," he said.
The opening event will be a freestyle BMX demonstration by Paul Langlands at 10am.