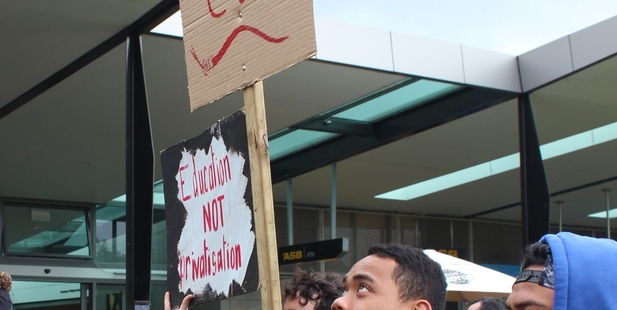 A protest against the privatisation of Waikato University's Pathways College and recent job cuts attracted a 250-strong crowd at Waikato University earlier this month.
Demonstration organiser and former associate director of Waikato Pathways College Tony Cartner said the privatisation would likely mean a partnership contract with an international company.
"Part of the problem I have with it is the international company will have no experience working with the sort of students we are talking about in CUP (Certificate of University Preparation)," he said.
"These are students who have missed out on university entrance for one reason or another - about 40 percent are Maori Pasifica, a large number have lost interest at high school and become disenchanted."
Mr Cartner said letters sent to faculties from the vice chancellor had hinted there would be future staff cuts in Waikato Management School and Faculty of Arts and Social Sciences in addition to recent proposed cuts which could mean 25 staff leave the Faculty of Education.
"Rumours abound that the VC is planning 160-170 redundancies in total, based on the stated change required in the student to staff ratio going from 20 full-time students per staff member to 30 full-time students per staff member," he said.
Tertiary Education Union deputy secretary Nanette Cormack said in an address to the crowd the current model for tertiary education would see institutions race each other to the bottom in costs, ignoring education quality or student experience.
"It fits into the Government's plans to reduce the cost of teaching and they are going to do that by increasing class size and decreasing staff numbers."
Student representative Michael Brambleby-Shelford, who completed a Certificate of University Preparation last year, said it was important for students to understand how the situation would affect them and push back.
"We need to ensure our faculty are there for us and able to do their jobs and have the job security to ensure that we do well," he said.
"I'm sick of old white men telling us what we can and can't have. They had free education and state houses.
"What do we get?"
Waikato University vice-chancellor Professor Neil Quigley responds:
The requirement for change at the University of Waikato reflects four factors.
First, for many of the disciplines taught at the university, the real income per student provided by government has fallen every year for 15 years. Because academic and general staff salaries have consistently increased over this period, the class sizes and the approach to administration that were viable 15 years ago are no longer viable.
The resulting challenges for university management are common to all New Zealand universities and most universities in the developed world.
Second, the interests of students change and even in a university that is experiencing growth there will be some areas of the organisation where enrolments will fall and change will be necessary.
Third, the university needs to have the capacity to retain its most outstanding staff and recruit new staff who bring new ideas and perspectives as well as the energy for new initiatives to their role.
Fourth, competition in the tertiary sector has increased, with the result that despite operating in a region with growing numbers of school leavers, student numbers at the University of Waikato have not grown because students have made universities outside the region their first choice for tertiary study.
For all of these reasons, change is a necessary feature of a university that seeks to be responsive to the needs of its students and its community and that seeks to maintain the quality staff and programmes that will make it a first choice for university study.
Change at the University of Waikato will be focused on those faculties where enrolments have declined and where responses to the changing levels of funding and preferences of students are needed.
It will also be focused on those areas of the central administration where there is the potential to adopt more efficient processes and organisation of services to staff and students.
There is no particular target for reduction in staff numbers: comparisons with other New Zealand universities' staffing ratios suggest that the University of Waikato has too many staff in some areas, but what that means in practice will be carefully worked through in detailed proposals for change.
These proposals will be developed on the basis of assessments of academic strategy and performance, income generated and the efficiency of existing administrative processes. Every change proposal will be the subject of consultation with staff and tested against the feedback that is obtained through consultation.
Some parts of the university are currently operating with student staff ratios that were viable 15 years ago but are not viable with current academic salary levels and funding ratios.
At present every programme in the university operates with a different student to staff ratio, and that will not change.
A requirement for higher student to staff ratios at faculty level will still leave the Deans wide discretion to determine appropriate ratios in the case of individual programmes.
All New Zealand universities have moved to larger class sizes in response to lower levels of government funding, and experience has demonstrated that the quality of the learning experience is more a function of the quality of the teaching staff and the design of the course than it is of class size per se.
Most students and their parents are interested primarily in the quality of the institution and its staff rather than simply in class size.
This is demonstrated by the fact that the University of Waikato has not grown over the last decade despite retaining small classes, while other New Zealand universities with much larger class sizes have achieved substantial growth in enrolments in the same period.