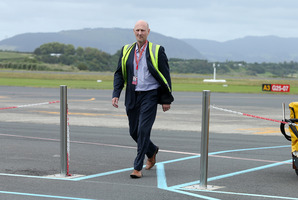 There appears to be some turbulence at Kiwi Regional Air, with rumours of big changes coming to the airline.
Chief executive Ewan Wilson refused to comment on any changes.
"I have absolutely no comment," he said.
Flight operations manager Dave Macpherson hinted the changes may relate to scheduling, but would not comment further.
"I can't say anymore yet because nothing is finalised," he said.
"Something will be out I'm sure within two to three days."
In April Mr Wilson stepped down temporarily from his Hamilton City councillor duties and his role with Kiwi Regional Air to undergo surgery to manage a treatment injury stemming from cancer treatment in 2011 and 2013.
Kiwi Regional Airlines began operations late last year after gaining approval from the Civil Aviation Authority (CAA) in October.
The collapse of Mr Wilson's previous Hamilton-based airline Kiwi Air with a debts of $8 million in 1996 resulted in four fraud convictions and Wilson being banned from holding a directorship for five years.
Kiwi Regional Air was formed with investment from 2 Cheap Cars Limited which sold its shares to Andrew and Anne King in February.
A press release from Kiwi Regional Air said Andrew King, whose investments include King's Finance and King's Cars and who sits on the Hamilton City Council alongside Macpherson and Wilson, would not be part of the Airline's management team.