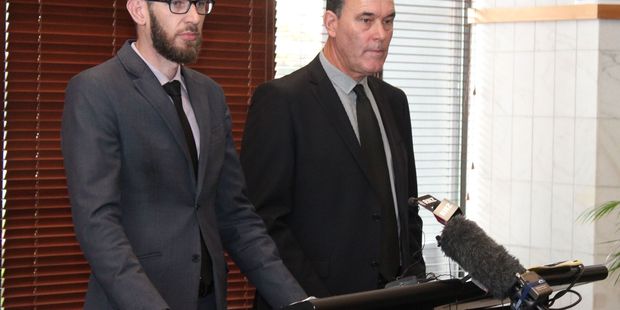 Hamilton City Council today pleaded guilty in the Hamilton District Court to a charge relating to the death of zoo keeper Samantha Kudeweh last September when she was mauled by a tiger at Hamilton Zoo.
Worksafe announced in March that it would prosecute Hamilton City Council over Samantha's death. The charge, which carries a maximum fine of $250,000, alleged Council breached Section 6 of the Health and Safety in Employment Act 1992 by failing to take all practicable steps to ensure Samantha was not exposed to hazards arising out of working with the tiger Oz.
Samantha, 43, was killed by male tiger, Oz, while carrying out duties inside the animal enclosure on September 20.
Samantha's family were at yesterday's hearing. Her husband Richard, 44, addressed the media after the hearing where he called on "those people responsible for the health and safety breach that ultimately killed Sam to own that responsibility".
"We understand Sam is not coming back and it is very important to us that the people who are responsible own up to that and do something about it.
"There have been many opportunities for those people to own that responsibility. I need people to understand that respect for Sam and her family comes in many ways. Hamilton City Council leadership, who are ultimately responsible for the health and safety breach, could have owned that responsibility since September 20 last year. They haven't, and in turn have done so much more damage to us because of it.
"In 2013 an animal keeper made a mistake. A gate was left open within the tiger complex. The tiger went through that gate then proceeded to follow the keeper through a number of gates. Eventually that tiger caught up with the keeper. Fortunately the keeper was able to get out of that situation without harm. This was a major wake-up call. Every effort should have been made to never have that situation occur again. It wasn't. Sam was killed."
The couple had two children together - Billy, 9, and Sage, 4.
Last month, Samantha's mother Judy Stephens told Hamilton News that she laid the blame for her daughter's death squarely on Hamilton City Council, saying there were several factors that set Samantha up to fail, including gates that relied on a counter-weight pulley system. "This organisation has brought about the death of our lovely Samantha."
Mrs Stephens said the "circumstances of the day" were entirely against her daughter.
"Samantha was expecting a visitor. It was a dull day and the counter weights [on the gate] blended in with the grey day. When your mind is taken up with something you're trying to attend to, she had to interpret the opposite of what the counter weights told her. They [the keepers] were relying on a counter weight mechanism sighted from a distance. The direct result was that Samantha could not see the gate was still open. My huge regret is that it didn't need to happen."
Last October, a Hamilton News special investigation revealed that an earlier incident at Hamilton Zoo in 2013 where another tiger made its way into the main tiger display enclosure where a keeper was working was also the result of gates being left open.
In that incident, the path taken by tigress Sali as she made her way into the display enclosure where the keeper was preparing to give a tiger talk was through a personnel area fenced only by a non-electrified weed mat-clad 1.8m fence.
Hamilton City Council said at the time the safety of the public was never compromised and pinned the blame on the keeper who left a gate open.
Had the tiger breached the 1.8m fence it would have done so into zoo grounds accessible by staff and could potentially have breached another fence into the public part of the zoo. It is well documented that tigers can jump up to four metres.
Hamilton City Council chief executive Richard Briggs and general manager community Lance Vervoort addressed the media after this morning's hearing.
"We have unreservedly said sorry for this tragedy. We've expressed this to her family," said Mr Briggs.
"No one should die on the job. Everyone should go home at night. Health and safety is my responsibility as chief executive and I take that responsibility extremely seriously."
"Council's guilty plea today recognises that the practical steps as outlined in the Worksafe prosecution were not taken and as a result, Sam died. We take responsibility for this.
"Our zoo practises were in line with industry best practise, but it's been proven that they weren't enough to keep Sam safe."
Judge Sharyn Otene convicted the council and remanded the organisation for sentencing on September 13.