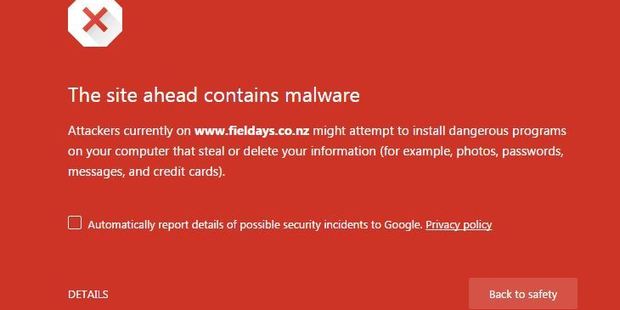 A week out from the opening of Fieldays, the New Zealand's largest agricultural exhibition's website is affected by malware.
Visitors to the site receive security warnings whenever they attempt to follow links to exhibitors' websites.
The warning reads: "Attackers currently on www.fieldays.co.nz might attempt to install dangerous programs on your computer that steal or delete your information (for example, photos, passwords, messages, and credit cards)".
A web developer involved with one of the exhibitors, who asked not to be named, said he noticed the fault two days ago and contacted Fieldays staff.
He criticised the website administrators for not fixing the issue with the event so close.
"Their response to us was 'We are aware of it, but there's nothing we can do about it'," he said.
The warning only appears when attempting to access exhibitors web pages through links on fieldays.co.nz.
"Apparently one of the URLs of the sites in there has malware in it, and Google or Norton or whoever brings up these warnings is treating every URL from every exhibitor as an attack site," he said.
"If you'd paid big money to exhibit there and you've got your URL there and it comes up with an attack site malware warning, you would be a bit annoyed wouldn't you?"
Exhibitors websites can be accessed directly without issue.
Chief financial officer of Fieldays Anthony Burman said there was no risk to public users and the message was only appearing on computers using the Google Chrome browser.
"What happened is one of our contributors - their website has become hacked and because of this Google then does a search across the Internet for sites with links to the hacked website. Effectively you are caught by association."
"No one will be vulnerable to anything because those three exhibitors who have been affected - they are previous exhibitors so are on pages not accessible to the general public."
He said the situation was out of Fieldays' control because it was up to the third party to fix their website.
"All we can do is take down those links, which has been done."
"There should be no concern for the general public, as far as we are aware."
He said the problem was in the process of being fixed but he was not sure of the time frame for Google to release the warning.