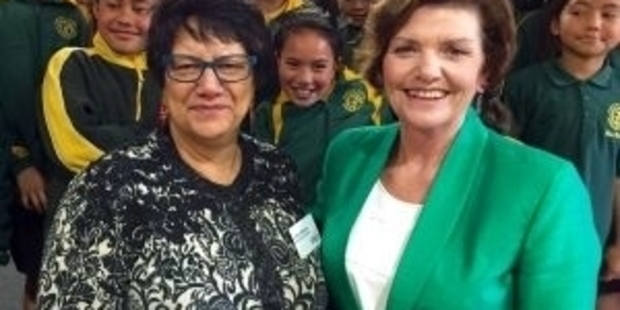 Hamilton Children's Team director Cathy Holland resigned from her position last week.
Understood to be effective immediately, Ms Holland's resignation comes amid allegations that staff on the Team are overworked and a clumsy referral system could see vulnerable children drop off the radar.
Kirikiriroa Family Services Trust general manager Ngaio Gillies oversees Family Start, which provides more than half the full-time lead professionals currently involved in the Hamilton team.
Ms Gillies was vocal about her concerns, which extend to claims the Children's Team is being used as a dumping ground by staff at Child Youth and Family (CYF) to ease their own workload, despite some of the cases requiring the kind of immediate intervention only CYF could provide.
"Cathy Holland's resignation last Wednesday is an employment matter, and I am not able to comment," Children's Action Plan national children's director Sue Mackwell said.
Family Works site manager Darrin Meynell said NGOs (non-governmental organisations) involved in the Team received an email last Thursday "out of the blue" advising of the resignation. The email did not specify the reason or circumstances of the resignation.
Ms Gillies claimed CYF workers off-loading cases to the Children's Team seemed to be an issue specific to Hamilton.
"What seems to be happening, just in Hamilton, is that somebody in CYF is deciding there are all these cases that we can't really get to because we're really busy so let's get them to the Children's Team.
"My lead professionals have often asked to send these families back because the risk is too high and they believe CYF intervention is necessary."
Children's Team lead professionals have no statutory standing and rely on parents' cooperation, unlike CYF which Ms Gillies said had the power to demand change and remove children for non-compliance.
"The lead professionals are getting a little frustrated because they have already been through a bit of a process with CYF and you get families who are a little bit agitated and they don't want anybody."
Ms Gillies also raised concerns that the availability of the Children's Team meant the bar was continually rising in Hamilton for what constituted 'urgent need'.
She said CYF was the biggest referrer to the Hamilton Children's Team but when lead professionals attempted to have an issue referred up to CYF they were often challenged, creating the potential for children to fall off the radar.
Ms Gillies recalls one referral with six children with issues ranging from domestic violence and hygiene to children with club feet, autism and mutism.
The case was passed to the Children's Team but the mother refused help.
"We were really concerned for the children so we made a referral to Child Youth and Family plotting what we had done, sent the referral off with extra information, and CYF sent it straight back to the Children's Team.
"The same lead professional who didn't have any joy the first time got another no, so it was going back and forth, and I had some major concerns there."
Ms Gillies said CYF eventually went out but didn't find any major concerns.
CYF Midlands regional director Sue Critchley said Hamilton Children's Team and CYF were working collaboratively to ensure that every child and their family that needed help was referred to the most appropriate support for them.
"We are confident that we get this right as most referrals to the Children's Team have been accepted. We are committed to working with the Children's Teams and strengthen the way we collectively operate."
From September last year - up to today - the Children's Team in Hamilton had received referrals for 458 children and had accepted 358 children.
Of those that were not accepted, 53 were referred to a single agency or similar service and 47 were referred to Child, Youth and Family.
Before her resignation, Hamilton Children's Team director Cathy Holland told Hamilton News there was no wrong door with the Vulnerable Children's Hub, which constitutes a call centre in Auckland where social workers hear concerns and assign to what they deem to be the appropriate team.
She said the Vulnerable Kids Information System (VIKI) securely tracked the actions of all agencies.
"Each child in the Vulnerable Kids Information System has a single file, securely tracking all actions of every agency, along with the plans and goals for each child. When anything happens, professionals in the child's network get an alert telling them to log in and get up to speed."
Hamilton was the first Children's Team to launch the VIKI system, an assessment tool which must be completed before any action is taken.
Ms Gillies said feedback was the system was overly complex, taking up to three hours to input information per child and effectively distracting lead professionals.
"You've got your hands full if you have six children in a family.
"Sometimes you have to input the same information six times because the system does not have the capacity to populate," she said.
"They are qualified social workers, their business is working around families and building that rapport so families are open to change."
A lead professional was expected to take a month to complete an assessment before any action was taken, but Ms Gillies these assessments could take double that.
In response to criticism of the VIKI system Ms Holland said it was an evolving system and the Children's Team was investing in training to ensure workers were able to collaborate meaningfully.
"We need to have a determination to succeed, and I know that everyone here has the same focus to deliver a better life for our vulnerable children," she said.
The roots of the Children's Team began in October 2012 when the Government released its Children's Action Plan, the biggest change since the Children and Young Persons legislation was introduced in 1989.
It is nine months since the Hamilton Team was launched with the objective of unifying the actions of non-governmental organisations (NGOs) involved in the support of vulnerable children.
Under the new system any concerns raised over a child's welfare, whether they come from doctors, social workers, police or neighbours are passed to social workers in the Vulnerable Children's Hub in Auckland.
These social workers make an assessment and determine whether the case is handed to Child Youth and Family (CYF), the Children's Team, or an NGO.
Cases where children are deemed to be in immediate danger are referred to CYF while those at lower risk are passed to the Children's Team and assigned to a lead professional, who acts as the sole point of contact in constructing an action plan and dealing with the family.
This process differs from the old system where all calls were put through to the CYF crisis line and less urgent cases were assigned to NGOs with the expertise to help, often resulting in double-ups as different organisations dealt with the various issues faced by a family.
Any full-time lead professional is limited to working with 10 families or 30 children at any time and Ms Gillies said her lead professionals were feeling overworked.
"The pool of lead professionals isn't there.
"It's slowly increasing, but there are some sites that can only provide 0.25 lead professionals. Imagine how long they are there every week?"
At one point Ms Gillies said there were more than 20 public health nurses making up one full-time lead professional in the Hamilton Team.
Figures from the Children's Team show three of the five full-time lead professionals have full caseloads.
"The other two full-timers are new and still building their caseloads. All other LPs work less than full-time, but some have full caseloads," Ms Holland said.
Ms Gillies said the Children's Team had huge potential, but an initial enthusiasm from NGOs had dissipated since emphasis shifted from a "nationally supported, locally driven" initiative to a "nationally supported, nationally driven" agenda.
"There's a whole philosophical problem.
"Initially everyone jumped up and down and wanted to be a lead professional then they realised there was no additional funding to be had. Suddenly people can't contribute anything.
"They are asking the communities to support the Children's Teams using the existing resources."
Community Investments regional manager Peter Waru is in charge of apportioning investment on behalf the Ministry of Social Development in the Bay of Plenty and Waikato, including three Children's Teams of which Hamilton is one.
"The idea was to use current resource to mobilise a Children's Team model," he said.
"It's about the evolution of being responsive to the needs of children collectively and not independently."
He described the process as "slicing off" pieces of existing NGOs to put into the new model as lead professionals.
While some larger NGOs have had their workload reduced to provide full-time lead professionals to the Children's Team, others have not and can only provide part-timers as a result.
"We don't want to clean out a service because the services we are purchasing are still vital to the community," Mr Waru said.
"It's about learning a new model with minimal impact on current business.
"We are really clear we do not want to disadvantage providers but it is about them participating in the model as it is evolving."