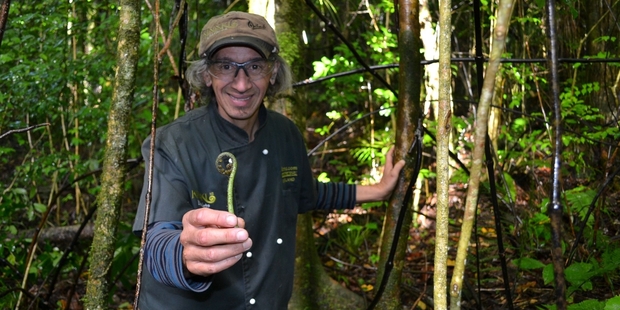 Chefs from around Hamilton braved the Pirongia Forest in wild weather on Tuesday to learn a few foraging skills to help inspire dishes for the upcoming Matariki menu challenge.
The Tino Reka te Kai Challenge inspires local cooks and producers to look at native options in their dishes at a time when Matariki, or Maori New Year, is marked.
The leader of expedition was Charles Royal of Kinaki Wild Herbs, a company dedicated to bringing native Kiwi delicacies to the world.
Charles first began foraging 16 years ago, learning the basics from an uncle and rediscovering the rest on his own.
It was a hobby which would evolve into his full-time business.
"I realised no one was supplying the ingredients and I began to ask myself, why is there no Maori cuisine? There are native Australian cuisines."
Charles said a lot of knowledge had been lost - knowledge that was hard to regain.
He said his biggest mistake to date was eating tutu, a poisonous shrub which he said had previously killed an elephant at the Auckland Zoo.
"One bite gives you stomach cramps in 30 seconds. I was incapacitated for two hours," he said.
"This is a really good time of the year for foraging. There will have been lots of new growth with the weather."
Charles said of more than 312 varieties of fern in New Zealand, only seven are edible. The most common of these is pikipiko, which has edible fronds that can be picked anywhere up to 5-6cm tall just before the koru unfolds and tastes a lot like celery.
When it came to mushrooms in the Pirongia Forest, however, there was a wealth of options.
But he warned foragers to know their mushrooms before picking and eating them and to "keep away from any coloured toadstools".
Another staple for Charles is supplejack, a bamboo-like vine which, when young, has a greenish tip with a texture and tastes uncannily like asparagus.
Also among the unlikely culinary delights was a lichen that could be dried, used as a garnish on desserts, and according to Charles, lowered the risk of prostate cancer.
The group stopped regularly along the way as Charles pointed out some flavoursome leaf or unlikely food source.
"This is a pukatea tree - scientists are doing research on how it effects diabetes," he said.
The group is also introduced to the huhu grub, a larvae which loves damp pine and tastes inexplicably like peanuts when eaten raw.
"Put them in the fridge and they will last three or four days. Just make sure to rotate the container or they will start attacking each other," Charles said.
It is not only chefs preparing for the Matariki menu challenge attending.
Brewer Tim Cursons of Three Fat Pigs brewery, possibly Hamilton's youngest brewery at only six months, was there on an entirely different mission - to find a native mushroom which he could use for his newest beverage: a mushroom stout.
Tim said the plan was to grow mushrooms on the grain of the previous batch of stout, which in turn would be distilled into a beer.
"It has been done before but never with New Zealand native mushrooms," he said.
Julie Crean, who runs blog site Rediscover Blog, devotes her time to profiling forgotten skills was also there to rekindle some forgotten foraging knowledge.
Back in the kitchen after two hours of foraging, bags were emptied and chef Tania Royal, also of Kinaki Wild Herbs, begins concocting dishes.
She said the strangest thing her husband had brought from the forest since the couple began their venture was an awhito - a small caterpillar considered a delicacy in many cultures.
The awhito gorges itself on fungi on the forest floor. Often this fungus will grow inside the caterpillar, eventually killing the critter as it grows out of the back of its skull.
"They look like caterpillars with little sticks coming out of them," Tania said.
Waikato Food Inc organised the trip, and director Gus Tissink said the purpose was to showcase Waikato cuisine by bringing eateries and producers together.
"We don't have the same recognition as Hawkes Bay, even Wellington has the Wellington on a Plate," he said.
The Tino Reka te Kai Challenge will run for five weeks from June 6 to July 11.
To find out more to go waikatofoodinc.com/matariki-dish-challenge or to organise a foraging trip visit maorifood.com