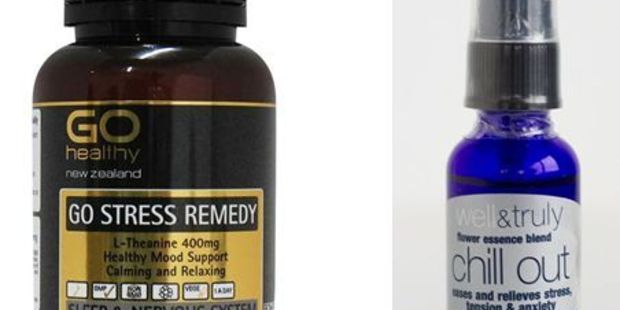 In last week's column I mentioned that I'd talk about stress and how that impacts on our bodies.
We all have some level of stress in our lives. It might be at a level where it's just enough to drive us to tick things off our 'to do' list or it could be stop-the-world-I-wanna-get-off levels. That kind sure as hell ain't good for us.
All too often, my levels tend to creep up towards the higher end of the scale. Life is busy. Mostly good busy.
But sometimes it's just a little overwhelming juggling everything.
With the help of nutritionist Sonja Gardiner, I've shed kilos, improved my diet and incorporated exercise into my week, all of which I'm sure has contributed to feeling better able to cope with everyday demands without wanting to run away and hide under my duvet with a bottle of wine.
Although, hiding away from the world has actually become a part of my week now. Switching off is good for us. I put my mobile phones on silent and revel in snuggling into my mismatched, but favourite, flannelette PJs with a good book.
For the most part, I simply ensure that I try to remain as organised as possible, but there are occasional days when a spanner gets thrown into the works and life feels a bit like it's unravelling. Or I'm unravelling.
Having had a chat with Sonja about how to better cope with those days, she suggested I give a natural supplement a try. L-Theanine is a unique amino acid found almost exclusively in the tea plant (Camellia sinensis) and is said to contribute to the taste of green tea.
Studies in humans have shown that taking L-theanine affects the emission of alpha waves in the brain which are associated with relaxation and focused attention.
Sonja told me that L-theanine crosses the blood brain barrier and that I could either take a daily maintenance dose or I could also keep the tablets on hand for days that are particularly stressy when I could open the capsule and deposit the L-theanine directly under my tongue for a quick, calming effect.
I've been taking the daily maintenance dose and even though I've had a particularly heavy workload and social calendar lately, I haven't needed to have an emergency dose.
I've kept the bottle in my handbag just in case, alongside a bottle of pre-made flower essence blend called Chill Out.
I bought that from Pirongia-based natural therapies specialist Leanne Koorey, who runs Family Focus Remedial Therapies.
Leanne creates personalised flower essence blends for people and she also stocks a range of pre-made blends.
This one is perfect for me to have on hand for a few sprays in the mouth when life feels like it's a bit overwhelming.
And finally, tummy breathing - also known as calm breathing or diaphragmatic breathing - is a great way of calming the mind. Focus on breathing deep into your tummy, not shallow breaths into the chest.
Our breathing can change when we're feeling anxious. We may take short, quick, shallow breaths. Calm breathing involves taking smooth, slow, and regular breaths.
Take a slow breath in through the nose, breathing into your lower belly for about four seconds. Exhale slowly through the mouth for about four seconds.
I've come to think of the L-Theanine, flower essence spray and breathing as my 'chill-out toolkit' for those days when it feels like the world is against me. And if all else fails, curling up under a duvet with a good book could be an option too!
Sonja Gardiner is a Hamilton clinical nutritionist on a mission to bring health, wholeness and happiness back into people's lives. For more information see www.sonjagardiner.com.