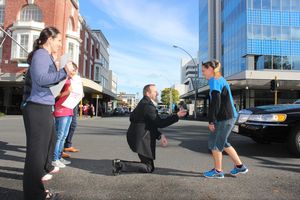 When Amor Kisling was told to leave work early this afternoon because she looked a little tired she could never have expected what was waiting for her.
First there was the limousine, which swept her off down Victoria Street to where her boyfriend Marnus Bisschoff was waiting - on one knee.
"She's not going to know anything," Marnus said as he nervously waited.
Police were on hand to help redirect traffic as the limo pulled up.
Marnus said the pair had known each other for 30 years.
"Now we have decided we love each other, that's why I moved here six months ago. I was here for three months and went back to South Africa for three weeks and now I'm back again."
The corner does not hold any particular significance for the pair, but Marnus said it was close to her work and she after getting into the limo she wouldn't have time to work out what he was up to.
"After I ask her I will get into the limo, then we are just going to drive around, book into a hotel, have a lovely dinner and enjoy ourselves. Just rest and have fun," he said.
Amor's mother Chrissie, father Karl, and son Preston were also on hand to watch the proposal.
Preston was one of the four holding up signs which read "will you marry me?", and said he approved of the match, saying Marnus was "really funny".
"Hopefully my mum's happy about this," he said.
Amor's father Karl said he only heard of the plan the previous night but Marnus said he made sure to get his approval before proposal.
"There's always the last one to know," Karl said.
The other sign-holders were on their way to get lunch when Marnus grabbed them to help.
Before disappearing back into the limo with her new fiancee Amor only had one thing to say - "It was a yes."