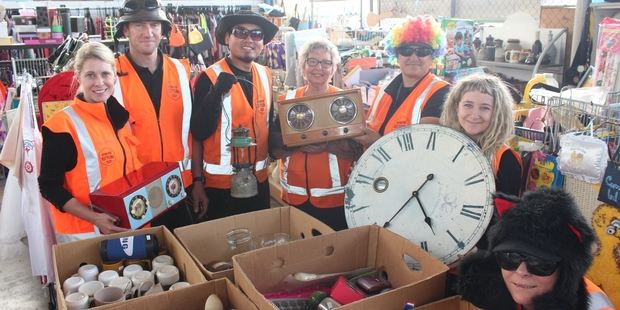 When Ryan Russell's parents began a recycling store in 1986 they could never have imagined the store would one day grow to employ more than 30 staff or save thousands of tonnes of refuse from being sent to landfill.
Hamilton's Essential Recycling Store has become so popular that Ryan, who is now managing director, and partner Jenna Russell, communications manager, are now considering a move to larger premises.
"My mum started the idea of the shop because she could see the value in all the stuff that was being thrown away and couldn't stand to see it," Ryan said.
Ryan's father Murray Russell met his mother Barbara in Rhodesia while stationed with the army. Jenna said this gave Barbara a unique perspective on wastefulness.
"It was very insightful at the time because recycling as we now know it was really in its infancy," she said.
Ryan began working at the shop as a boy during school holidays and Jenna arrived far later.
"Ryan and I met through my brother at a mutual friend's leaving party. I was a marketing executive from Wellington and met Ryan who said he worked at a rubbish dump. That was obviously an interesting pitch. There was no sugar-coating right from the outset," she said.
But despite the glamorous trips to Tokyo and Barcelona and the pulls of a corporate lifestyle, Jenna said the proudest moment in her career came after joining Essential Recycling and helping the company win the Waikato Business Excellence Awards.
"This is much more fulfilling and we have managed to inject some corporate attitude into this incredibly strong family business."
Essential Recycling is currently a contractor to Waste Management, and Ryan said plans to relocate to a larger premises would depend upon the renewal of their contract in June next year.
Jenna said if the contract were extended for a few years the store would likely be relocated to somewhere close by to allow easy transport of larger items.
Any regular to the Recycling Centre will know the treasures to be found, and Ryan has a rule for what he is allowed to take home.
"If it's something I particularly like it goes into the car, and if I need it and it comes out within a month I keep it and if it doesn't I bring it back."
Jenna said they had a strict limit for how many things they took home.
"There are people who come to our house and say 'Wow that's great, where did you get that from?' and we look at them and say 'do you really need to ask?'."
Jenna said a combination of the economic downturn, a growing acceptance towards second-hand goods, price and a growing upcycling trend contributed to the store's strength.
"I spend a lot of time looking through home and trend magazines and I think the whole industrial design trend towards natural materials in homes is massive now," she said.
Emphasising the upcycling potential of the store's products is an aim for the pair, with any new store design likely to incorporate an 'inspirational gallery' area showcasing ideas alongside the materials used to construct them.
"A lot of people just need some vision for the products," Ryan said.
Strange items to pass through the store include a full human skeleton (presumably for teaching biology), letters signed by the Queen and ancient butter churners.
Behind the scenes there is a seven-step recovery process from the pit where a product is dumped to the shop floor.
"Products are found, then sorted into a category, cleaned and priced, it is then stored in containers. Because of the volume we cannot store everything in the store, then the loading of the shelves and the completion of the sale."
The number of items which the store receives is so great that Ryan and Jenna have to store the majority in five shipping containers dotted around the transfer station.
The store currently employs 32 staff, but this number fluctuates with the season, with up to 40 during summer months.
The average full-timer stays with the company for seven years and the store has around 350 customers per day.