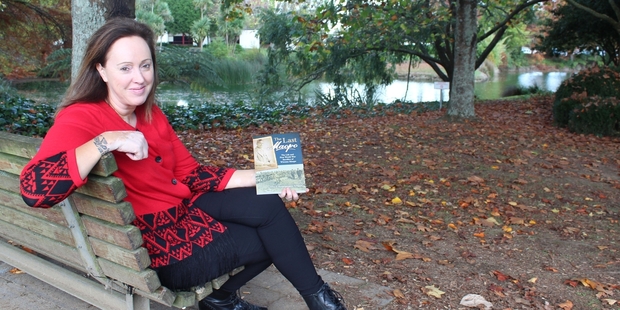 When Tainui Group Holdings director Tania Simpson began a search to find out about her great-grandfather she could never have expected the tale of love and war that would emerge.
Because Tania's grandmother was adopted the family history was always obscure.
As more details came to light they told the story of a couple separated by war and racial prejudice which left a mother tricked into thinking her partner was dead and the father ignorant of having a daughter.
Despite the demands of being a member of the Waitangi Tribunal and a director of the Reserve Bank, Tania has found time to turn the remarkable story into a book, titled The Last Maopo.
"In gradually uncovering the identity of my grandmother's natural father, a lot more information began to come. It revealed he was a Maori pioneer soldier in World War I," Tania said.
"Some time after making the connections quite coincidentally a collection of letters surfaced from him that had been held privately by a childhood friend of his."
The letters proved to be a key piece to the puzzle revealing how a young Pakeha woman fell in love with a Maori man, Wiremu Maopo, at a time when inter-cultural relationships were frowned upon.
"We got his voice through this collection of letters. The story I was researching was about why my grandmother was given up for adoption. Around his story is the love story with my great-grandmother and how their families kept them apart."
Tania said it all began when, as a teenager, her great grandmother Phoebe went to the South Island to help her sister on a farm.
For her it was an adventure to take up with the boy next door.
"She had a lovely time. One of her nieces, Millie, who was an old lady when I interviewed her but was a child when they were courting, she would have to go with them as an unofficial chaperon. She said at night he would climb in the window and over her bed to get to Phoebe - to hook up with my great grandmother!" Tania said.
When Wiremu went to war in 1915 he was 29. Phoebe was only 18.
Wiremu had no idea Phoebe was pregnant.
"They sent her off to a Salvation Army home for unwed mothers and told her he [Wiremu] had been killed in the war. They intercepted all his letters to her and burnt them."
Tania knows this because Phoebe's older sister confessed to it years after their parents died.
"She still never learnt he had survived the war, and he never knew she had had his baby," Tania said.
Phoebe refused to allow the baby to be adopted, despite pressure from her father, who was himself a captain in the Salvation Army.
"They wouldn't let her come home so she stayed at the home for eight months with the baby. Eventually they sent her a telegram and said 'come home, it's okay', but when she stepped off the train they took the baby off her and forced an adoption."
Phoebe's parents had falsified documents, claiming the baby was their own and authorising the adoption. The daughter was fostered out to a family in Hamilton.
"She spent 13 years looking for her. The image on the back of the book is from when she found her." Tania said to have a collection of letters from a Maori pioneer was rare.
The letters stretch through Wiremu's experiences throughout the war including the battles of Passchendaele and Flanders.
They reveal a man who thought Phoebe was no longer troubled about him.
"He assumes she had given up on him and moved on," Tania said.
Wiremu had been one of 13 children, all of whom had died of introduced illnesses like tuberculosis and influenza.
"When he came back from the war his last remaining family member died. He was the last of a very large family with no children. He was believed to be the last of the family line and that's why the book is called The Last Maopo."
"In fact there are more than 40 of us who are his descendants."
A century later when Tania's book was published she received an email from a woman in Sacramento who had spotted one of Wiremu's war medals on the auction site Ebay.
"I bid on it and I won it. I contacted the seller and her husband was a collector and that 40 years ago or longer he had come down this way and probably picked it up then."
Tania is a member of the Waitangi Tribunal and a director of the Reserve Bank.
The Last Maopo can be purchased from Amazon or directly through Tania by email at Tania@kowhai.biz.