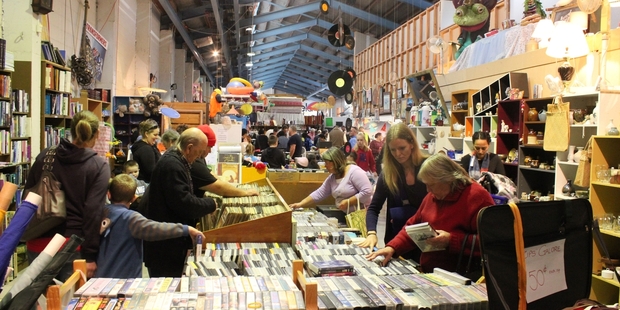 Since the Hospice Megastore in Frankton began its Thursday markets, demand has been so high they are struggling to fill the shelves.
Now they are calling on the public to donate any unwanted goods to help feed their Megastore and seven other branches around the Waikato.
Hospice Megastore warehouse manager Andy Barr said the sudden demand was partly due to more people buying second-hand goods.
"There's still a lot of life in stuff that's donated.
"There's some awesome stuff that gets donated and parts of society can't afford brand new stuff."
Items in particular demand are quality second-hand furniture, winter clothing, and hi-fi equipment.
"I'm not sure if women haven't cleaned out their closets yet or what, but we really need good winter clothing."
It's not surprising they clear the shelves, with hundreds of customers passing through the checkouts.
Checkout manager Mary Cubitt said the number of items would be well over 1000.
"There are big gaps at the end of the day but it's in the days after when we scout around and think 'oh, that's gone'. One lady bought every frying pan and every dessert spoon because she was going to Vanuatu. That was 33 frying pans."
When the Megastore first opened its Thursday market Mary remembers people lining up at the gate.
Commercial manager Mark Begbie said a key to the Hospice shops' success was their care never to sell defective or dirty goods.
"This shop will probably sell two-thirds what we have, so every week we need to replenish that and it's really eclectic so we just want people to bring in what they have.
"We can sell all of it. The only thing we can't sell is soiled goods."
Mr Begbie said in modern op shops you should be able to walk in and not relate any smell to second-hand goods.
"There's nothing that puts off discerning buyers than the smell of old," he said.
A movement towards upcycling by the general public was another factor Mark identified, with the Hospice shop providing the raw materials.
"It goes back to that old adage - one man's rubbish is another man's treasure."
Hospice can provide pick-ups for larger pieces of furniture.
Visit www.hospicewaikato.org.nz to find out how to make a donation.