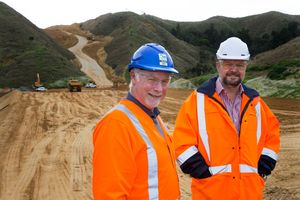 Work on the Huntly section of the Waikato Expressway is steaming ahead with favourable conditions following a long summer pushing the expected completion date forward three months to December 2019.
Working away feverishly just out of sight to the east of Huntly township over 90 heavy vehicles and around 200 contractors have already moved over 600,000 cubic metres of earth.
Project manager Tony Dickens said the public would be shocked to find out how much had been done just over the hill.
"It's going to be the biggest surprise out that there's such a massive job going on. No one will know until the end because the end of it is where we link on to Ngaruawahia section, the beginning is at Ohinewai and there's nothing in between where we can open half the job."
The team is literally moving mountains as they cut a path through the Taupiri Ranges, creating an impressive entrance to the Waikato.
"It's going to be a spectacular entry point through these rural valleys and through native bush and then you suddenly burst onto the Waikato plains," Mr Dickens said.
The cut through the Taupiri Ranges is itself 60 metres deep, with the final 10 per cent requiring blasting to complete.
Mitigation for the project includes planting more than 1.3 million native plants and use of sediment ponds to ensure only clean water leaved the site.
Work began on October 1 and Mr Dickens said the first summer was all about opening up the site and getting access for machinery.
The layman might assume contractors work off the Roman principal that the shortest distance between two lines in fastest, but Mr Dickens said nowadays it is a lot more complicated.
In order to create a level road any hill above the line must have its top removed and any gullies or valleys below must be filled in -- ideally with the materials removed from higher points.
"Part of our design process is they have software that helps them find an optimum line where the cut and the fill are balanced," Mr Dickens said.
"As a designer you move the line of the road up and down in and out of the hill, following a whole load of geometric rules about where the line can be, and then you find the optimum spot where you dig a hole here and fill it there without anything left over."
Minimal earth movement resulted in lower costs and fewer landscape factors.
Added to this is a regulation that no road be over six-degree incline to increase fuel efficiency for trucks and road design becomes a fine art.
The whole job will see 3.5 million cubic metres of earth moved. In dumper trucks which carry 20 cubic metres of dirt per load this adds up to a lot of man hours.
"I just say to the guys 'if you're going to eat an elephant it's one bite at a time'. The real trick is constant movements, you don't want delays because you will never make up the time."
Mr Dickens estimated 5000 cubic metres of earth is moved per day.
To avoid water erosion over winter 20 culverts have already been installed -- one in every valley -- and mulched hay will be laid over following weeks to avoid run off in the wet months.
The majority of works are suspended over winter as the slippery conditions make work too dangerous.
The biggest challenge to overcome in this early stage has been higher quantities of swamp soil in the low lying areas, but even this is collected, dried, and reused as top soil.
NZ Transport Agency's Waikato highways manager Kaye Clark said the new road would significantly improve safety for the 17,000 motorists who travel the route every day.
"State Highway 1 between Huntly and Hamilton is classified as the highest risk road in New Zealand, based on the number of fatal and serious injury crashes per kilometre," she said.
"The new stretch of road has been designed to reduce the risk of those crashes. It will provide two lanes of traffic in each direction divided by a central barrier and various other measures."
The Huntly section is one of seven sections which make up the Waikato Expressway.
"Huntly is all about hold ups with traffic lights and the railway crossing - this is just going to be straight through at 100km per hour," Mr Dickens said.
There will also be nine bridges built as part of the Huntly section.