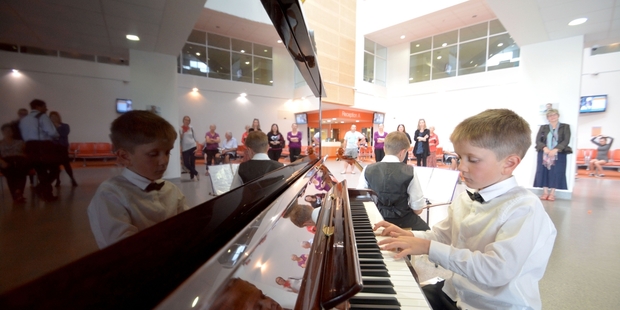 Waikato Hospital Meade Clinic Centre has a new addition in the form of a piano which in time, they hope, will be played by musicians throughout the day.
A music group from Suzuki Students played alongside the piano to launch the new initiative.
Director of business support Melinda Ch'ng said the aim of the project was to bring the community into the hospital.
"We don't want to be the castle at the top of the hill so we want to engage people so when they come they feel like they've been here before," she said.
"It is to take that fear away from hospital and make it a friendly place."
Chaplaincy administrator Heather Major said a roster was being drawn up with the final aim being someone playing throughout the day.
Anyone hoping to play will soon be able to go online and lodge an application along with a video clip of themselves playing, or Mrs Major said anyone could come in for an audition.
"For the last three years the chaplaincy department has organised music for the hospital, on wards as well," she said.
A similar operation had been running in Wellington Hospital, and Mrs Major said there was rarely a free spot to play.
Manager volunteer and chaplain services Donna Craig-Brown said the day's performance had already shown the crowds that would stop and listen.
"People who are uptight, have an appointment, don't know where to go, they will hear that music and it will relax them," Donna said.
The Waikato District Health Board is also looking for a music coordinator to enhance and expand the existing music programme at Waikato Hospital.
Waikato neurosurgeon David Whitehead said music could reduced stress by lowering levels of stress hormones, improved cardiovascular health and reduced blood pressure, and improved physical, emotional and mental health and wellbeing.
"Evidence for shared neural pathways of speech and music suggest that various neurological disorders may benefit differently from singing exercises and listening to music," he said.