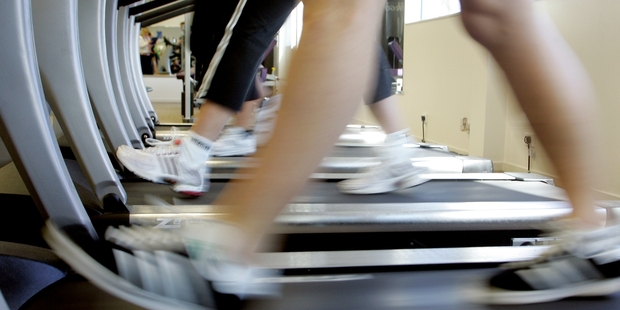 Those of you who follow this column will know that Advance personal trainer Lynsey Graham and I have signed up for Advance's running school with the aim of improving our running technique as we train for the 5km event in the Hamilton Half Marathon later this year.
Lynsey joked that she ran like Pheobe Buffay from Friends - all gangly legs splaying out to the side and arms flailing. That's exactly how I felt when I attended my first running school class with podiatrist and running expert Kate Caetano at Advance on Monday.
Kate took me through several exercises that focused on creating the correct leg movements. Once I had all the movements drilled into my brain, Kate got me on the treadmill where I focused on the leg movements in 30 second blocks.
I concentrated on pushing off with my toes hard and flicking my legs up behind me. And my gait is such that my legs tend to be too close together so Kate kept reminding me to keep my legs wider than I was used to. All that combined, I felt like I was Pheobe Buffay.
It was, however, because I was exaggerating the movements and I wasn't used to running with my legs slightly wider apart than usual that I felt awkward.
While I mastered the leg movements, I wasn't sure about Kate's plans for me to jump off the treadmill and back on while it was moving. Before any health and safety experts get antsy, she assured me it was do-able. My treadmill drills were to consist of three 30 second blocks on the treadmill, interspersed with 30 seconds off it.
My concern was that my lack of coordination would be my downfall. Literally. I was the kid who was always chosen last for team sports at school. Every single mortifying time. (By the way, why was it that our teachers never just split the classes into groups for team sports rather than letting the team leaders choose their players?!) That's stuck with me ever since so my fear that I'd catapult off the moving treadmill and land in an awkward pile on the floor was real.
With the treadmill set at a sedate 4km an hour, Kate had me hold on to the side rails and jump off with each foot landing on their respective side panels. Then she got me to push back on the treadmill a few times as if I was trying to make it go faster before I stepped back on. I didn't come a cropper.
Next up, I attempted the same thing at 8km an hour. The jumping off part wasn't an issue. "Right, start pushing your foot back on the treadmill," said Kate. I pushed back four times before I took a leap of faith and put both feet back on. And what do you know? I didn't land in a heap on the floor.
Treadmill fear conquered, I went on to complete three sets of three runs as Kate coached me on my technique.
We wrapped the session up with some stretches that focused on the glutes that I'd activated during the exercises and drills we'd done and a few minutes on the foam roller, again focusing on the thigh and glute muscles.
Advance Physiotherapy & Wellness Centre is at 711 Victoria Street. For more information about the services they offer see www.advancephysio.co.nz.