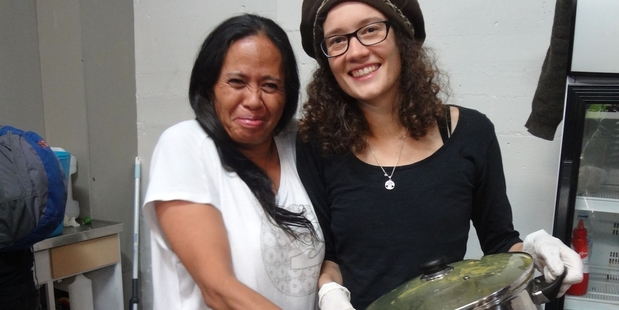 Despite its name, Hamilton Homeless Trust (HHT) doesn't just serve the homeless.
With people falling through the gaps in the system, HHT is a local organisation providing a safety net.
They are not working to eradicate poverty directly, but are helping alleviate symptoms of poverty, believing that when people have their basic needs met they're more likely to take steps to change their circumstances.
HHT serves food 365 days a year.
Monday nights are the busiest following the weekend when WINZ payments are running low.
Anyone is welcome, from all walks of life. About one third of the people served are homeless, another third are in transition - they may have a roof over their head but circumstances may be unstable and the final third are individuals and families from low income homes.
Since it started in February 2014, not a single serving has been missed and no person has gone away unfed. Fifty to 110 people are fed by HHT each night in Hamilton central.
In February 2014, Claire Chapman identified a need and started feeding people soup in Garden Place to anyone who wanted a meal. On the first night 15 people turned up, on the second night there were 40 people and on the third night 60 people. From there it grew and food was served from several locations. Today, food is served each night in a back room on Hood St. A Community Waikato grant allowed the trust to purchase cutlery and plates.
There is a core base of 50 active volunteers cooking and serving food on a regular basis and more than 100 others who can be called on for support. Volunteer cooks prepare a pot of food on the night they are rostered on. They use their own resources, or call on their own networks for donations.
The trust is also a recipient of Kaivolution, a local organisation that rescues surplus food that is good enough to eat, but not good enough to sell.
Camilla Carty-Melis is one of the HHT volunteers and coordinators. She originally became involved as a volunteer because she wanted to help people in need and to meet new people, however this motivation changed over time.
"The people I get to spend time with, both the volunteers and patrons have become my extended family. I don't feel like a volunteer anymore - I go along to spend time with my community," said Camilla.
HHT operates under the premise of taking people as they are - all are welcome. The only people who have been turned away are those who pose a safety concern, such as the intoxicated. They are still sent off with food.
The people who attend are of all ethnicities, ages and circumstances. Some patrons may reach out for assistance and volunteers can pass on information about other organisations that may be able to offer support. Some volunteers have also been called on for support such as helping to write CVs, sourcing clothes and blankets.
Volunteers often bring their families to eat alongside other patrons. There is no strict divide between volunteers and patrons. Camilla says that the emotion that stands out the most for her from the people she serves is gratitude.
"No matter their background, all issues are left at the door and there is a lot of respect for the work we do. There is mutual respect as we acknowledge that our patrons are human beings who are worthy of kindness," said Camilla.
Meals are served each night at 6pm. To volunteer contact hamiltonhomelesstrust@gmail.com.