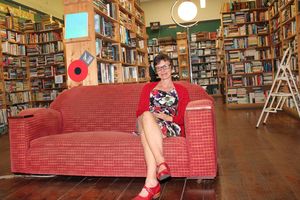 After 20 years in the same location Browsers Bookshop is moving, but Hamiltonians need not worry, with the new premise already picked out in the new Riverbank Lane development.
Shop owner Rachel Pope said she began considering a move 18 months ago when she was unsure of her current lease on Victoria Street being renewed.
"The lease is up in July and the new lease starts in August so I will start moving across in July," she said.
"I tried to imagine myself in different areas of town, it's like when you move house, you think about where you want to live and how much you want to pay, and nothing spun my wheels and then the agent said what about the Riverbank Lane development."
Ms Pope was doubtful she would be able to afford the newly refurbished premises at first, but after meeting Matt Stark was sold on the developers vision.
"I really liked who they were, what they were about, what they were creating.
I know it's only at the beginning phase with a cafe and a barber, I don't know what else is booked to go in but I know he wants a mix of retail and cafes," she said.
"What he's done with the building is beautiful and great quality. My space is a building zone so it's hard to envision it, but I was in there this morning and the floors are already polished and the walls are up."
The bookshop will celebrate its twentieth birthday next month.
Ms Pope said the only cafe back when she opened was Metropolis.
"There were lots of empty shops and crappy little shops, so I thought it might become the cheaper area of town and sort of alternative, but no, all the cafes moved in and that's been good for us."
One thing Ms Pope will not miss will be the cold winter evenings and the occasional leak of the old building.
"I'm going to tread a line between a refresh and keeping our atmosphere and the essence of us and who we are," she said.
Among new plans will be a larger children's book area, some downsizing and perhaps a greater area given to displaying vintage and rare books.
"I will try and keep the secret door because people are enchanted by it and especially students or children when they see it for the first time they get really excited. It's always been lovely getting that reaction," she said.
The rest of the staff are excited about the move, and Ms Pope said customers were also encouraging - provided the shop does not change too much.
"I haven't thought it through yet, how I'm going to move all the books but I've already had two blokes come in and offer themselves as muscle, that was really lovely."