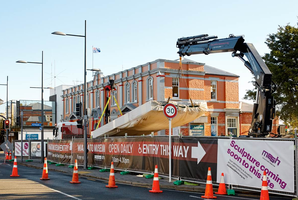 Philanthropic arts group MESH celebrated a milestone today with the arrival on site in Hamilton's Victoria St of their latest piece - 'The Tongue of the Dog', created by renowned Kiwi sculptor Michael Parekowhai.
The artwork will be nearly three storeys high when installed. The piece has been constructed in Auckland over the past eight months but today signalled the key part of the installation process which involves construction of a large pool and water pump system to supply the water feature which is built into the sculpture to create the tongue of the dog effect.
MESH chairperson Nancy Caiger has been looking forward to the sculpture's arrival on site.
"This work represents two hard years of planning and fundraising. It will likely become a symbol for Hamilton and the CBD's defining artwork. It will provide the added benefit of acting as a marker for visitors to engage with the Waikato Museum and the developing river precinct".
Treasurer Stuart Anderson says there has been a lot of effort from many people to make the project happen.
"Over the past two years we've seen Hamiltonians embrace philanthropy. The tremendous work we've also seen from groups such as the One Victoria Trust and TOTI which have been so positive for our city is helping Hamilton become a really creative city. To be able to see our city's history recreated in a variety of ways makes me proud to be involved with MESH and proud to be a Hamiltonian".
Ms Caiger sees the new piece as an important statement about the future of Hamilton.
"We now have two iconic artworks bordering the CBD. At the northern end we have the Farming Family, generously donated to the city 26 years ago by Sir Robert Jones. It talks about the original industry which helped shape our city. Now at the southern end we have Tongue of the Dog, which represents the new Hamilton and the exciting future we have ahead. It represents the modern change our city is going through and the increased importance other industries such as technology and education have in our city as well as reconnecting us to our roots through telling the Maori legend of the Waikato River - a story that needs to be told. It really is a new sculpture for a new era for Hamilton".
Tongue of the Dog has been funded by donations received from more than 70 different donors with major contributions from The Perry Foundation, The University of Waikato, The Caiger Charitable Trust and Jon & Sue Tanner.