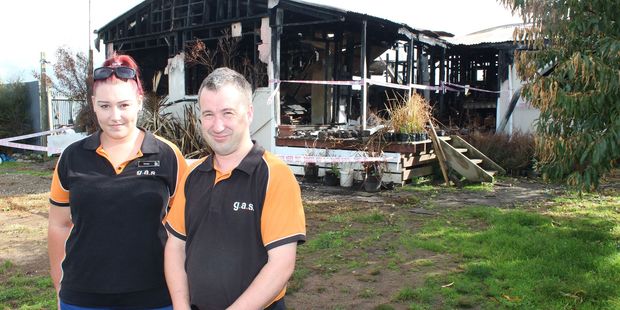 The GAS station in Whatawhata will donate five cents for every litre of fuel to help the Pihama family who lost their house and all their possessions last week.
GAS station manager Simon Frampton said the event would run today, tomorrow and Sunday.
"Their house got burnt down last Monday night so they've lost everything. They have got house insurance and we're trying to do this extra," he said.
That station has already raised $700 from community donations and hopes to raise another $1000 from the three-day event.
Simon said the Pihama family were very active in the community and loyal customers of the station, and the garage was determined to help out.
Mrs Pihama said she loved the idea and appreciated the support.
"The generosity is awesome but I'm a little embarrassed people giving us help like that, I think it's awesome but we're not hard up. We're loving the fact the whole community of Whatawhata have been giving.
The marae meant we had a place to stay, they cooked us food. We've just had lots and lots of support."
She said these had come in the form of clothes, food and prayer.
"We had someone in Australia contact a catering company in Hamilton to bring out all this catering food."
Mrs Pihama had been cooking in the kitchen when the oven burst into flames. She thought the fire would be confined to the kitchen and living room.
The fire appliances that attended the scene had been impeded, Mrs Pihama said, by the limited water supply.
"I was in shock once the windows bust out and you could hear all the cracking, that's when it really hit me ... They've said it will be a rebuild, overall it's too costly to try and fix up what's been destroyed," she said. "I had a roast in my oven - the fire service showed me the chicken after their investigation. They said 'your chicken's cooked'."
The family were fully insured and Mrs Pihama said the insurance company had been extremely helpful, but it had still been incredibly busy.
"Everything can be replaced, the main thing for us was our family were fine, our animals were fine, the only thing we find hard to deal with was that our taonga can never be replaced. We had items given to us from generations ago and we were the holders of those items," she said.
Husband Te Ariki described the whole ordeal as an incredibly humbling experience and a lesson in impermanence.
"We get attached to the material things but what matters is each other. I found photos of family in the rubble and that really drives it home."
Te Ariki repeated his wife's thanks to all those who have supported the family.
"We don't know how we're going to pay it back so we will pay it forward," he said.