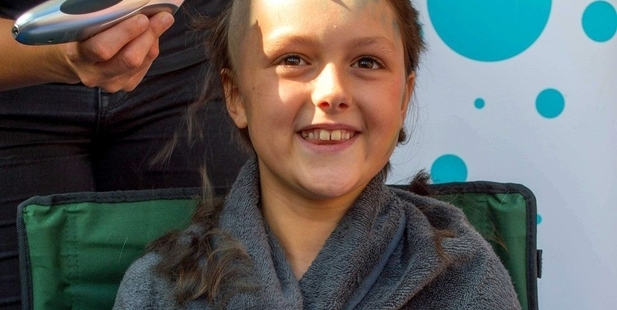 Hamilton's Natalia Bull, 10, has raised more than $1200 for Rainbow Place children's hospice by shaving off her hair.
Bald is beautiful according to Natalia, who said she felt "nervouscited - a combination of nervous and excited," before the shave began at her fundraising event last Saturday at the Hamilton Gardens.
The rain did not dampen the excitement with supporters and donations pouring in and her family fan-base cheering her on.
Natalia smiled proudly as she took scissors to her hair and made the first snip herself, followed by her parents and siblings each taking turns.
"This is my dream - cutting off my sister's hair," Imogen Bull, 13, said as she began snipping off a piece of Natalia's hair.
With the humming of the hair clippers, Natalia's mother Helen Bull finished off the haircut.
"I was surprised by the amount of emotions I felt - I was so proud, really excited for her but at the same time nervous for how she might feel afterwards. She's done so well, she's the sweetest of souls and has taken it in her stride," Helen said.
Natalia has raised more than $1200 and is still receiving additional donations.
"I thought I'd get a couple of hundred dollars but instead I got a thousand," she said.
Funds raised will go to Hospice Waikato's Rainbow Place, New Zealand's only specialist children's and young person's hospice service.
They provide free specialised care and support for children who are living with a terminal illness, as well as grief and loss counselling and support for children who are dealing with the loss of a loved one.
"I decided to do the fundraiser because I really wanted to help out little kids, so I thought I may as well raise a lot of money so they can get a whole bunch of stuff to help them," Natalia said.
Rainbow Place representatives attended the big event and were "absolutely blown away" by what Natalia had done for them. They said that for a 10-year-old to personally make the decision to shave her hair to support Rainbow Place is amazing.
"Natalia has shown that no matter how big or small you are, you can make a difference," Family services team leader, Yvette Hobbs said.