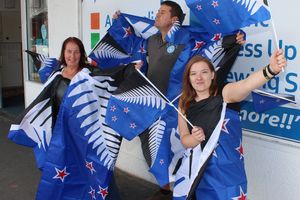 What do you do with 20,000 Kyle Lockwood flags after they are rejected in the flag referendum?
According to David's Emporium owner Neil Roach the answer is continue selling them - and selling them well.
"We are still selling as many as we did before the 'Great Vote'. It's strange, I don't know what it is. A lot of people are buying them and sending them to families overseas," he said.
Before the vote the store had sold around half their stock, and since had sold another quarter.
"We always knew it was a bit of a gamble, but you have to do these things, and it's a bit of a laugh too. In five year's time we might have some kicking around and someone will say 'what the hell's that flag?'. Someone might even buy it not knowing the history."
David's Emporium had the flags made in China in partnership with a number of other emporiums, including Pete's Emporium in Wellington, AJ's Emporium in Rotorua and Arthur's Emporium in Whangarei.
The order was placed for 10,000 large flags, 5000 hand flags and 5000 car flags, which were divided between the stores.
The gamble could definitely have gone really pear-shaped, with the order costing around $90,000 all up. It could have been far higher, with flag polar fleeces also considered - on the condition the first order was for 4000 jackets.
At this point Neil said between the Hamilton and Manukau stores they had sold the majority of the flags.
"We've had some upset comments from people up in Manukau, who just say they don't want that flag," he said.
There have been customers purchasing up to 20 flags in one purchase, and in the Hamilton store Neil only has 140 large flags left in stock.
"I haven't heard of any other stores getting the flags in before the vote. There were some out there, but they were selling flags made in New Zealand and they were $60 or $70 retail."
Neil said he "wasn't too fussed" about the flag referendum result.