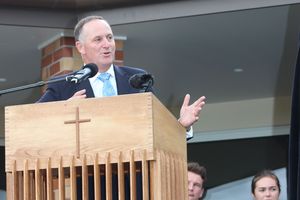 Early export figures this year suggest that tourism is set to overtake dairy as New Zealand's largest export category, according to Prime Minister and Minister of Tourism John Key.
Speaking after a ribbon-cutting ceremony at a new AgriBusiness Centre at St Paul's Collegiate School in Hamilton today Mr Key said tourism numbers were growing rapidly on the back of new markets like China opening up.
"Exports were down down $3 billion mainly because of what's been happening around the world and in China. I think it does vary a little bit, but we are very optimistic about tourism," said Mr Key.
"You have these low-cost carriers, cheaper fuel prices, more efficient planes - you've got a lot of drivers bringing more international tourists."
He said it was not an either-or situation for dairy and tourism.
"My own view is that dairy prices will recover, I can't exactly tell you the time frame, but the international market is huge. We can do both, I think."
The statements confirm what the Tourism Industry Association of New Zealand (TIA) has been saying since December.
TIA chief executive Chris Roberts said despite official measurements only coming out once a year in April, examination of statistics in December made it clear that by the end of 2015 tourism had reclaimed the top spot.
"Receipts from international visitors is somewhere over $13 billion now, even though we wont have that number confirmed for some time, and dairy exports have slipped below $13 billion."
Tourism has seen double digit growth in visitor spend for the last couple of years and Mr Roberts said that looked to be continuing, with the Lions Rugby Tour and the World Masters Games in 2017 promising to continue the growth.
"Every indication is at the moment the high levels of growth should continue for the next couple of years at least."
He described the fight for the top spot on the export commodities as "a long rivalry".
"Tourism and dairy have been number one or two for a long time and we tend to change places. We would be very delighted if the dairy prices recovered and the dairy income gave us a run for our money. We certainly don't want to see the current slump in dairy prices continue," he said.
Mr Roberts described the dairy market as far more volatile than tourism, but said it was almost unprecedented to see growth of more than 10 per cent in tourism.
"It's fun to have a little rivalry there but in the end it doesn't matter if we're first or second as long as we're making as good a contribution as we can to the New Zealand economy."
According to the TIA Tourism was number one from the late 90s until 2010 before dairy had its boom.