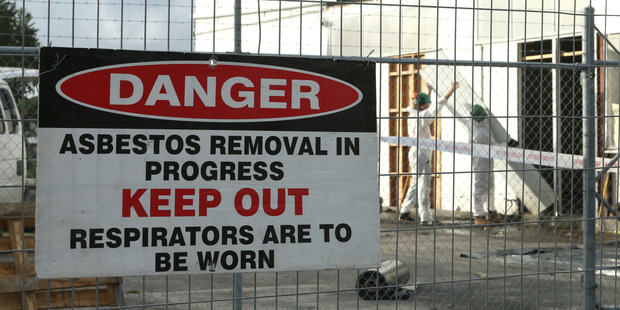 A new licensing system for asbestos removal will come into effect on April 4 with the hope of reducing the 170 asbestos-related deaths currently estimated by WorkSafe to be occurring in New Zealand annually.
WorkSafe general manager operations and specialist services Brett Murray said in 2013 the New Zealand Cancer register reported 107 cases of mesothelioma - the highest figure to date for the disease which arises from asbestos exposure.
He said taking into account lung cancer deaths caused by asbestos and from asbestosis this indicated roughly 350 cases of asbestos-related lung disease were diagnosed annually.
The new rules will see an overhaul of the current two-year Certificate of Competence to be replaced with five-year specific to Class A and B asbestos removal.
"Class A is related to the removal of fibril asbestos, loose material," said Mr Murray.
"Class B work is for non-fibril asbestos."
Mr Murray said Class A was generally found in old lagging around pipes and boilers and was dangerous for its ability to become easily airborne and therefore inhaled. Class B related to things like corrugated asbestos fencing or rooves.
"Under old regulations the license would go to the person. Under the new regulations the business can hold the license and they can appoint supervisors who are appropriately trained to supervise the work."
Mr Murray said this meant should the licence holder leave the company, under the new rules the company would not have to run around to find a new licensee.
Supervisors must have at least three years' experience for Class A licenses, or one year for Class B, and for Class A removal work there will be requirements for an independent assessment of the supervisor on the job, including air monitoring, which is expected to come into effect by 2018.
"A lot of people who get exposed to asbestos are people in associated trades like plumbers, electricians, who maybe work on old buildings. By licensing a wider range of businesses there's going to be greater coverage across the country, and by having a more stringent set of knowledge and experience requirement by those undertaking the work it strengthens the system."
Mr Murray said the changes bring New Zealand more into line with other countries' regulations.
"We expected in the past to see asbestos-related diseases peaking some time ago. We're not seeing that so much.
"The regulations are to tighten up the removal and we will be doing a campaign to make people aware of what it is and how to identify it."
When asked for the reason for the rule change Mr Murray said the figures spoke for themselves of the need to avoid harm to anyone working with asbestos.
Dr Noel C Karalus has been working in the field of respiratory illness for around 30 years.
He said when he started working at Waikato Hospital about 30 years ago he would have seen one case of malignant mesothelioma, a cancer which affects the lining of the lungs and chest cavity, every year or two.
"Now we see about a dozen a year."
By his calculations he thinks this number will continue to increase, peaking around 2025.
"It will increase by about 20 or 30 percent, but that's a guess," he said.
"The lag time from exposure to disease is 40 years, so the stuff that happened at Meremere Power Station, we're seeing the fruits of it these days."
Dr Karalus said Meremere was among the worst sites in the country, and recalls a time in the 70s when workers would make snowballs out of the cancerous substance and throw them at each other.
He said he also saw a number of other asbestos-related conditions like pleural plaques on a regular basis.
Safeway Asbestos Removal director Frank Thomas has been involved in the removal of asbestos in the Waikato for 47 years, and said he had seen a number of colleagues pass away from asbestos-related illnesses.
He remembers when farmers would use the removed asbestos on cattle races, and his asbestos-covered clothes would be washed with the family's clothing.
He said the new regulations would weed out some of the cowboys who still relied on little more than a trailer for asbestos removals, but it would not stop all of them.
"I firmly believe any changes for the betterment of the public has got to be good," he said.
He questioned how long it would take for wheels to be put into motion and said WorkSafe still relied heavily on people "dobbing in" to enforce regulations.
"The staff levels at WorkSafe are not sufficient to allow monitoring," he said.
WorkSafe general manager operations Brett Murray said it was up to the company holding the licence to supervise their own work.
"WorkSafe does not have enough inspectors to go to every building site in New Zealand for normal construction stuff. We expect people to comply," he said.
"The tightening up on asbestos regulation is the requirement of supervisors to be on-site and follow the regulation path that's going to be put in place."
Mr Thomas said despite already having a lot of kit to keep his workers safe, including a vacuum truck, masks and overalls, to bring up to new guidelines would cost an additional $50,000 in equipment.
"Competition is a great thing and if everyone sings from the same hymn book it's going to be good," he said.
"It's disheartening to see we're competing against guys who just have a trailer and little else."
WorkSafe recommends anyone concerned they had been exposed to asbestos to contact the National Asbestos Registrar where they will be forwarded a questionnaire.
"Once that's filled in, WorkSafe can respond to the concern outlined," Mr Murray said.
Current Certificate of Competence holders will be able to continue removing asbestos until their certificate expires.