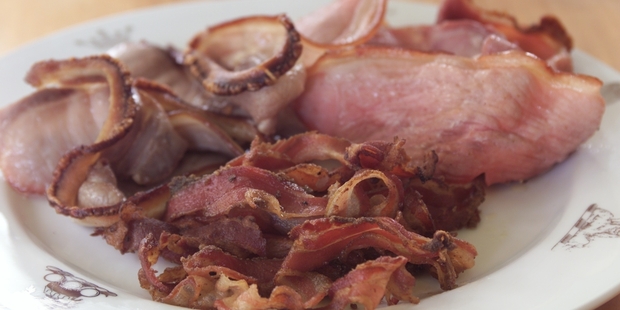 "For breakfast you'll have bacon and eggs," said Sonja. "Will you be okay with that?"
Is the Pope Catholic?!
The next two-week phase of Sonja's Reset programme involves a new eating regime: 60 percent fat, 25 percent protein and 15 percent carbohydrates. Which means eating bacon and eggs for breakfast. And considerable amounts of fat.
How is this going to work, you may ask?
This is what's called a ketogenic diet, which forces the body to use ketones, a by-product of the process through which the liver makes glucose out of non-carbohydrate sources, fat. Normally, the carbohydrates contained in food are converted into glucose, which is transported around the body. However, if there is very little carbohydrate in the diet, the liver converts fat into glucose and ketone bodies.
Now, I don't know about you but I have plenty of fat stores so it makes sense to switch my body into fat-burning mode rather than glucose-burning mode.
The first week having streaky bacon (Henderson's dry cured - it's got no nasties in it) and eggs was a novelty. The second week, not so much. It was a pretty quick and easy breakfast, but I was a bit bored with it so I switched to omelettes with mushrooms or cheese. And one morning I had avocado on paleo toast. The key, you see, is the fat content.
Each day I logged my food intake on www.myfitnesspal.com where I was able to see what I was eating broken down into calories along with fat, protein and carbs by gram to ensure I was tracking the percentages as near to the 60:25:15 ratio as possible.
Lunch and dinner was generally protein (chicken with the skin on or perhaps leftover lamb or beef from the night before) with salad or steamed greens and the addition of a fat (avocado, avocado oil, butter on my veges or some cheese).
Had I wanted morning and/or afternoon tea I could choose from things like nuts, hard cheese, a protein shake or olives. But I was never hungry between meals so I skipped snacks.
On the foods-to-avoid list were potatoes, kumara, yams, pumpkin, peas, corn, carrots and beetroot. The latter was not an issue given my extreme, long-standing loathing of that ghastly purple vegetable.
You can test to see if your body is in a state of ketosis with the use of Ketostix - sticks you pee on which you then hold against the colour chart on the bottle to see if there are ketones in your urine and, if so, at what level. Apologies if that's a bit too much information!
Sonja had warned that I may feel a little foggy-headed to begin with but that was never an issue. If anything I felt more clear-headed than I had in ages and I had plenty of energy.
The only issue I had was, errr - again, apologies for over-sharing - number twos. Low carb equals low fibre. But that's easily sorted with a supplement such as Phloe or similar.
During this phase I lost just over 2kg. Those size 12 jeans still don't fit but the goal is getting nearer!
Sonja Gardiner is a Hamilton nutritionist on a mission to bring health, wholeness and happiness back into people's lives. For more information see www.sonjagardiner.com.