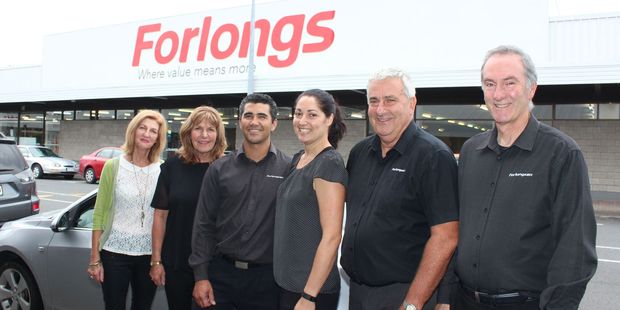 Forlongs staff clocked out for the last time yesterday, all but ending 70 years of trade and leaving a huge slab of Frankton unoccupied.
Only the family will stay on after Thursday, keeping the doors open until the final items are sold.
Store manger Terry Forlong said it would not be long before other retailers filled the gaps, with some departments already being scooped up.
"We had one gentleman come in here just now and he's going to take over our carpet department and employ the staff," said Terry.
"We've had one supplier who wants to keep the bedding department going. He also wants to keep the staff."
The buildings, despite appearances, are actually a number of individual premises combined.
"There are approximately nine separate units. A lot of these buildings were bought next to our existing building and we just put a hole in the wall and went through.
"All the power and all the water and all the rates are separated already. Our plan is to board these holes back up again and rent them as individual shops."
Forlongs is among the last department stores in the market, a fact Terry attributes to the ability of more specialised stores being able to demand lower prices.
Terry said he had never made a loss in the 35 years he had worked there, and the family retains the ownership of buildings.
"We just decided we wanted to retire from retail. I'm 65, my sister has had a scare with cancer, and the next generation of Forlongs ... it's too big of a company for a family member to come in and manage the shop."
It is all business for the family.
"People say I'm very sorry to hear. I say 'don't be sorry, we've had 40 years of this, we're ready to retire and relax a bit'. It's been great for us."
One of the employees, who currently runs the advertising, has been in the role for 43 years. She arrived when she was just 14 years old.
Back when he began Terry remembers five-paged carbon-copy invoice books and everything being hand-written.
"Customers haven't changed in their attitude or manner. We have three or four generations of customers coming in here," he said.
But the history of the department store goes further back than that, all the way back to 1946, when young Ivan and Neville were given the choice of moving to the big city with mother and father Evelyn and Ralph or staying put on the Forlong family farm. A teenage Ivan chose to move but Neville stayed put.
Inspired by his brother's success in retail Ralph began his own store.
Back then the shop was just 278 sqm and the staff numbered five. It was a modest beginning for the store which now has a warehouse of 4000 sqm with 12,000 metres of retail space.
Two years after opening a tornado swept through Frankton, wrecking 150 homes, 50 businesses and adding up to a repair and clean-up bill equivalent to $80 million in today's money.
Although stock was damaged and the site inundated with debris, Forlongs reopened after two days of frenzied cleaning.
The subsequent 'tornado sale' put the site on the map, and by early 1950s the search was on for bigger premises.
This resulted in a move to its current Commerce St site.
Terry's involvement with the family business was a slow entry, first spending two years on the family farm in Taupiri before being coaxed into the retail space as an appliance salesman, eventually becoming appliance department manager in 1978.
Terry's time at the store has been quite straight forward by comparison, with the only white elephant being the decision to sell air conditioning units, which were impossible to shift.
Forlongs did have a Tauranga branch, which opened in 1991 following the receivership of Greerton Furnishings, but the kiwifruit crash of 1992 saw sales drop dramatically and the family decided to consolidate once more in Frankton.
The family has always been guided by their Christian beliefs, which of course means they have always closed on Sundays.
Now it is time for a quite retirement in Raglan, where Terry is looking forward to getting hands-on refurbishing a new home.