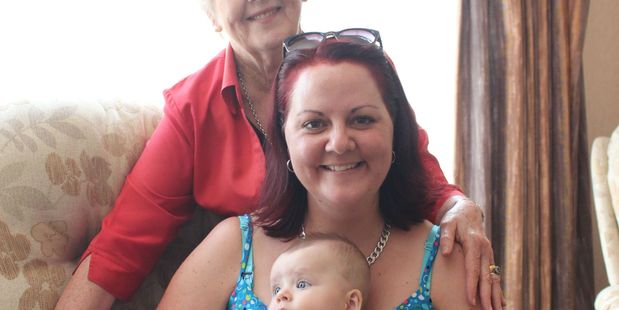 The pinboards in the lounge at Waikato Family Centre have dozens of photos of smiling, cherubic little faces on them - all precious babies who've been through the centre with their mothers.
Among the photos are also cards thanking the centre's staff for helping tired, stressed out mums and dads with the struggles of parenthood.
While the pinboards are laden, they're just a small fraction of the hundreds of families that the Waikato Family Centre helped last year - 942 to be precise. And of those families many would have visited the centre multiple times, adding up to thousands of visits.
This year, says nurse manager Maureen Speedy, that figure will reach more than 1000 families. The work the centre does is invaluable but the financial burden it carries is heavy.
Every year for the past five years or so, the centre has run at a loss of about $38,000. Fundraising is constant to ensure the centre's doors remain open.
There is a small placard in the lounge that tells the mums how much each family's visit costs the centre - $75. Alongside there are envelopes should visitors want to make a donation to the centre. Given the mums are there because they aren't coping with one - or several - aspects of parenthood, they're not always in the right frame of mind (or in a financial position) to make a donation.
The centre relies on funding from corporate donations, the ministries of Health and Social Development, ad hoc donations from visitors and their extended families and various grants they apply for regularly. This month they will host a 'Family Fun Day' at Hamilton Lake to further bolster funds.
The centre sees mum and babies dealing with a kaleidoscope of issues from a lack of milk supply, breastfeeding difficulties, sleeping trouble, settling. And, of course, there are plenty of mums dealing with anxiety and post-natal distress or depression.
Regardless of the situation, the centre offers practical and non-judgmental advice and support.
There are registered and Karitane nurses on the staff who work alongside Maureen, who trained as a general nurse and midwife. And there are a raft of volunteers - "grandma helpers" - who will rock, soothe and cuddle a fractious baby while a tearful mum talks through her troubles with a staff member over a cuppa.
Despite the centre's grim financial situation, no one is ever turned away. And while Maureen draws a wage, she regularly puts in time in her own time in the evenings, taking classes for teen parents and for mothers working through post-natal distress.
Incredibly humble and modest, Maureen plays down her contribution to the centre, saying it's never felt like work to her in the 20-odd years she's worked at the centre.
Waikato Family Centre's Family Fun Day is on Sunday, April 10 from 10am-2pm. There will be food vendors, a cake stall, quality pre-loved baby gear for sale, a band, raffles, a bouncy castle, games and plenty of spot prizes. There will also be a walk/cycle around the lake where parents can takes little ones in dressed-up buggies alongside older children who are encouraged to decorate their trikes and bikes.
Those attending are asked to take cash along, including coins for the rides.
A safe place for a worried mum
Julie Blake had a dream pregnancy, even getting in some gentle exercise at Les Mills right up till a few days prior to the birth.
She was excited as she prepared for the adjustment to motherhood, but what Julie and her husband Graeme hadn't anticipated was that their daughter Pixie would stop breathing when she was six days old.
Pixie was whisked up to Waikato Hospital in an ambulance and kept in overnight. While doctors weren't exactly sure why Pixie had stopped breathing, Julie and Graeme were assured their young daughter should be okay from here on - and she has been.
But the scare left Julie anxious and fretful that Pixie might stop breathing again. Added to that was that Pixie was very sleepy and not feeding well due to extreme tongue and lip ties. The Blake household was a nervous one.
Julie's mum called Maureen at the Waikato Family Centre, having already had contact with the centre previously with other grandbabies.
"It was almost like a sense of 'we'll call Aunty Maureen - she'll know what to do'," said Julie.
Maureen said to come straight in and Julie hasn't looked back.
"The centre was a safe place, a haven really. Maureen was really pragmatic; she helped me to look at this as a bump in the road ... it was one hiccup, we've moved on."
Centre staff set about helping Julie get back on track with breastfeeding - something she was keen to pursue.
Julie describes the centre as being "completely professional but with a feeling of family". And that's just what it's like, from the moment you step inside.
Registered Nurse Jan asks Julie if she'd like a cup of tea and she greets cooing baby Pixie. Julie jokes that she should be making Jan a cuppa, such is the workload she deals with.
"Maureen told me this can and will get better. She was absolutely right," said Julie.
Mum and baby are both happy and settled. Pixie is thriving. Job done.