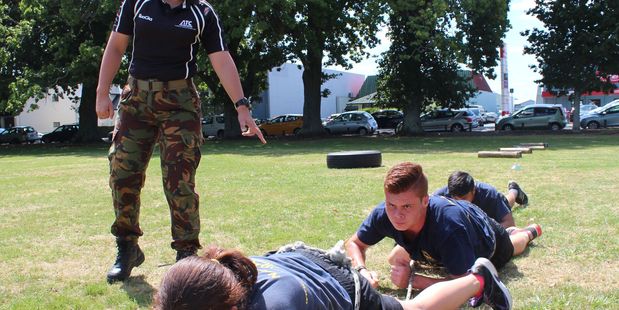 Hamiltonians can't have failed to notice the teenagers being put through military exercises daily in Hinemoa Park or running down Anglesea St in army fatigues.
The students belong to the Advance Training Centre (ATC), a school tucked away on Rostrevor St, with a curriculum focused on preparing students for careers in the military.
The centre has received a big boost, among the first of such centres to receive sponsorship from the Defence Force.
School tutor Keelan Smith said the school would be receiving old uniforms and equipment in exchange for an increased focus on non-combat roles for its pupils.
"Everyone wants to be a rifleman and go into the glory role, into combat. Everyone's seen Jar Head and Saving Private Ryan, but the Defence Force is seeing more IT, communication roles and logistics roles, and is struggling to recruit."
"What we are going to do is give our guys more of an insight into these other roles and we are going to add a driver license into our course, which opens up a huge range of jobs for the guys."
Keelan said a lot of the students at the school struggled with the cost of gaining a license.
The new equipment will allow for more field trips into the bush, an activity limited previously by funding.
"Any dangerous equipment is not going to come to us," Keelan said.
A Defence Force spokesperson said no formal arrangements or agreements have been generated between NZDF and the Advance Training Centre.
"The Advance Training Centre and the Hamilton Cadet Unit have, however, been given obsolete uniforms by NZDF for use during training."
The non-physical component of the course includes a level two social and community course and cadet course, which teaches navigation and outdoor pursuits.
"We do a lot of maths and literacy here as well, so they don't miss out on anything they get in high school," Mr Smith said.
Pupils of ATC are often recommended by Work and Income, the Ministry of Social Development or the Justice System.
"The majority of the time the guys decide they want to come here, they've seen us out on the street or seen out fliers and decided that's what they want to do," Mr Smith said.
A large part of the schooling is physical training. From 1-2.30pm pupils undergo rigorous exercises with the aim of preparing students for entry requirements for the Army.
"They are pushed quite hard. Another thing we have here is called corrective training. Missing a time or not having the right kit on them when we ask for it and they are given tyre works, running, sprinting, push ups, any kind of physical punishment to make them think."
Mr Smith said he had not received a complaint yet from any of their pupils.
"They know there are some strict rules to abide by: no swearing in public, no smoking in public, just be respectful. Not only are they representing us but they are representing the Defence Force."
It's a 24-hour job for Mr Smith and fellow tutor April Bichan, with everything from trips down to the police station to doling out relationship advice.
But possibly the biggest hurdle the staff have is keeping the pupils focused on their goals and off each other.
"Our general motto here is don't get into a relationship if you're going into the Defence Force, because it always splits you up and it's undue stress," Mr Smith said.
April Bichan said it was hard attracting females but retaining them was no problem.
"I think most girls see the military image, but it's not just that and it's difficult to explain to them it's not all about fighting and going on the frontline and what-not. When they start to understand a bit more they see they can do it, and they want to do it.
"A lot of these kids are in the mindset of saying 'I give up, I've had enough' and it's my job to say 'you've come this far, why not a little bit more to get you over that line'."
Both tutors are only 21, but far from compromising discipline both said this made them more relatable to the students. The school operates on a rolling intake, with 17 current students.
"Those who stick it out do want a career in the Defence Force and the Police as well, we've noticed," Mr Smith said.
In the coming months ATC is planning a move to larger premises and extending activities into outdoor pursuits and sports recreation.
Schools like the Advance Training Centre are relatively new to New Zealand, and Keelan said they were very different to their American counterparts.
"American military schools are often gung ho - let's go blow stuff up.
"That's not what we're about. It's about setting yourself into a career that's stable."
The school is funded by the Tertiary Education Commission and Ministry of Social Development.