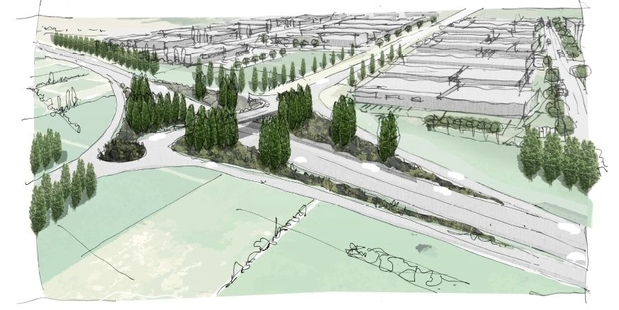 Work will start on the most complex and highly anticipated section of the Waikato Expressway this month.
The 21.8km Hamilton section of the expressway is the largest roading project in the Waikato's history. The Transport Agency board approved $973 million to fund the project which includes 17 bridges, five new interchanges and walking and cycle paths. A restoration strategy will be developed for number of Hamilton's gully systems.
Prime Minister John Key and Transport Minister Simon Bridges turned the first sod at a ceremony last week that included NZ Transport Agency and local council representatives, project staff, landowners and Waikato-Tainui. The Transport Agency's Hamilton highways manager Kaye Clark says the Hamilton section is the final and most complex piece of the Waikato Expressway puzzle.
"The Hamilton section is the biggest roading project in Waikato's history - a stretch of road that will make a real difference to safety and efficiency when it opens in 2020," Mrs Clark says.
"The project is highly anticipated and supported by the Waikato community and we are excited to get underway on what will be a huge job. Up to 600 people will be working onsite to get the road open."
Mrs Clark says the Transport Agency has worked closely with Hamilton City Council, Waikato District Council, Waikato Tainui and members of Ngaati Koroki Kahukura, Ngaati Hauaa, Ngaati Wairere and Ngati Mahanga.
Waikato-Tainui chief executive Parekawhia McLean says Waikato-Tainui continues to work to ensure the expressway reflects the aspirations of the tribe.
"Together with our local people, we have developed a comprehensive mitigation plan that covers environmental and waahi tapu protection, training, education and employment," she says. "We have a number of marae people working alongside the project archaeologists, monitoring and recording historical sites and collecting and protecting historical artefacts."
Tainui Group Holdings chief executive Chris Joblin says connections between the Hamilton section and Ruakura logistics hub will bring Auckland, Hamilton and Tauranga closer.
"Planned connections between the Hamilton section and our new Ruakura logistics and lifestyle hub will unlock a smoother flow of people and freight within the golden triangle of Auckland, Hamilton and Tauranga.".
All seven sections of the Waikato Expressway are scheduled to be complete in 2020. The completed Expressway will reduce journey time between Auckland to south of Cambridge by up to 35 minutes, improve freight connections , support economic growth and significantly improve safety.