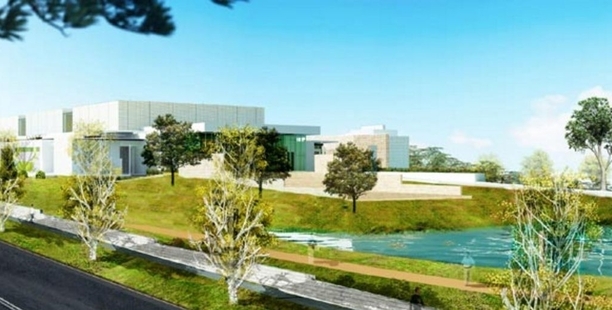 Temple View may almost double in size over the coming years, with anticipated growth seeing as many as 260 new houses built on the eastern side of Tuhikaramea Rd.
Housing is currently mainly confined to the western side of Tuhikaramea Rd but project director Paul Coward said there are currently 59 houses undergoing consent consideration on the eastern side, with the potential for up to 260 more.
If they go ahead the houses will likely be home to a mixture of retirees and families.
"There's an increased interest from [Hamilton] City Council. A week ago we had all the executives out here, not the elected officials, but they came out and had a visit," Mr Coward said.
Hamilton City Council planning manager Luke O'Dwyer confirmed there was a recent visit primarily as an induction tour for new executives to show the unprecedented rates of urban growth in the city.
Mr O'Dwyer said council had already consented 23 new dwellings and a resource consent application was currently being processed for 59 new senior housing dwellings and a 41-bed nursing home.
"No application has yet been received for 260 more dwellings. We are a growing city and there are several locations where land is being developed, including in the Temple View area. This is extremely positive for our city," he said.
Future plans could also include a small retail commercial development at the northern tip.
"It's dependant on the market but you might have a medical centre, a pharmacy, maybe a dairy," Mr Coward said. This development will depend on the progress of housing in the area.
Of Temple View's residents 95 per cent belong to the Church of the Latter Day Saints and Mr Coward said the hope for the new development was to open up more opportunity for non church members to live in the community.
There will also be a number of new community buildings going up, the largest being a Stake Centre, which is beginning to take shape with structural beams and some walls in place. Work on the Stake Centre began in September and is expected to be completed next February. It will provide for a number of congregations in Temple View and host regional community and church events.
The Temple Visitors Centre will also receive a refurbishment and the historic Kai Hall is being returned to its original layout to provide a dining hall for the community.
Directly behind the Kai Hall will be the new Legacy Park complete with a lake, river feed and scenic boardwalk and bridge.
The existing area will be supplemented with an additional 200 kahikatea trees. These will be planted by the Labour Missionaries, who were also responsible for building the original college campus.
"Originally Koromatua Stream came through here but with the development of the campus it was diverted. Now we're re-establishing that stream route and enhancing it with the retention ponds. We are trying to re-establish it as a natural feature," Mr Coward said.
Anyone who commutes through Temple View will be familiar with the 24-hour stop-go system, but with the roadworks scheduled for completion early next week Hamiltonians will begin to see a whole new Temple View taking shape.
Since work began, three roundabouts have appeared with the objective of slowing traffic and creating a village feel that permeates across both sides of Tuhikaramea Rd.
Project manager Joshua Thomson said the road had taken a while because it had to be done in three stages and a number of underground services had to be moved and replaced.
"We've implemented a number of measures to stitch the community together because this was quite a thoroughfare with cars going 70km per hour sometimes," he said.
These measures will include a border of 4m-high maple trees and white fences complete with feature lighting designed to echo the original layout.
Immediately to the west of Tuhikaramea Rd seven residential houses have been demolished to make way for 16 new houses, the majority of which have been built.
The old Mendenhall Library will also be repurposed into a museum dedicated to the history of the church.
"There will be a little theatre inside for the community," Mr Coward said.
Mr Coward said he hoped all the development would bring beauty and lustre not only to Temple View but to the greater Hamilton community.
"The Church owns the former campus land but also other land in and around Temple View. This other land is being studied in conjunction with the HCC as to what development options, if any, could be considered into the future. This is likely to be part of future District Plans as we are only at the scoping stage," he said.
HCC planning manager Luke O'Dwyer said when the decisions of the Proposed District Plan were issued in 2014 they were in contact with landowners in Temple View who had made submissions requesting a structure plan for Temple View.
"That appeal was settled on the basis that Council would complete a scoping study of that area before launching to a full structure plan. The purpose of the scoping study is to do a preliminary report and environment assessment."
This study will be completed by July 1 and includes identifying issues influencing development such as geotechnical conditions, flooding risk, transportation capacity, the ability to provide water and waste water to the area, and any heritage resources.
"From that it will give us a clear direction of targeted and deeper investigation to inform a structure plan. We are doing work with the Church and other land owners as well."
Works on the new Temple View began when the church leadership made the announcement to close the college in 2006. When the school closed in 2009 the area's re-purposing began.
"When something like a college, which contributes so much employment and so much to the cultural activity here is taken away from the community it leaves a hole in that community, so we are restoring that in a different form," he said.