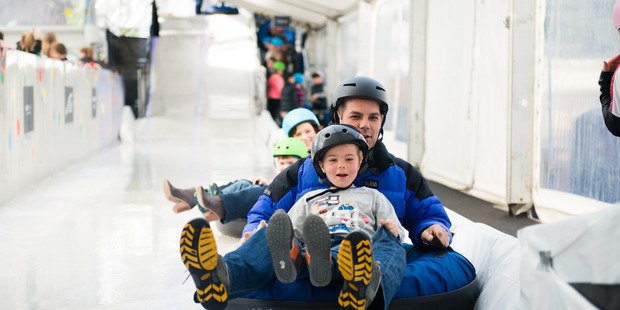 An ice slide will be the coolest attraction of all when a new festival comes to Taupo.
Family fun, day and night, both indoors and outdoors, are the buzzwords around the Taupo Winter Festival, July 15-17. Slap-bang in the middle of the July school holidays, it will have a broad programme, including a range of free family activities for the younger set, as well as ticketed evening shows with theatre, concert and comedy acts for the grown-ups.
Directors Nicola Carter and Kylie Hawker-Green have set up the One Taupo Charitable Trust behind the Taupo Winter Festival, with the aim of running a profitable festival and then being able to return money to the local community. The trustees are all locals with a passion for arts and the community.
Mrs Hawker-Green is a former director of Taupo's Erupt Arts Festival, and Mrs Carter and husband Aaron, who moved to Taupo last year, run Total Sport, an events company. When the two women met last year they got on well, and with both involved in events, it was almost inevitable that they began to plan one together.
"The idea is to try and create something that has really broad appeal so it's not too high-brow, arty and elitist and is fundamentally heaps and heaps of fun for families during the day and then ticketed shows like theatre, music and arts in the evenings," Mrs Hawker-Green says.
Mrs Carter says the festival is an opportunity to bring some vibrancy to Taupo in a traditionally quieter period.
"With my experience and then meeting Kylie, it just kept rolling and every time I thought 'why am I doing this?' there were always people around to say it's a great idea ... I think it's going to be a really rewarding event weekend."
The pair are deliberately starting small to give the festival room to grow and say it gives them a chance to work with other groups and organisations who may be planning events at the same time. They'd like to bring them all together under one umbrella as well as make it more appealing to school holiday visitors, with spin-offs for the local economy. They'd like to include local talent and performances too.
The programme will be launched on March 22, and the pair say they've opted for events that are proven and that they know local audiences will love, with everything from a high tea to comedy acts and local exhibitions. They're doing their best to keep entry prices as affordable as possible.
"From Erupt [Arts Festival], I know how much people love the opportunity to get out and experience something new and see something different, and as a mum I know how much my kids love being out there and participating in things that they wouldn't otherwise get to do," says Mrs Hawker-Green.
They're trying to keep prices down by applying for grant funding and hope to form partnerships with supportive local businesses.
They're also planning to set up a Pledge Me page which will give people the opportunity to contribute towards making the festival as big and beautiful as it can.
"The more funds we have, the more we can do," Mrs Carter says.