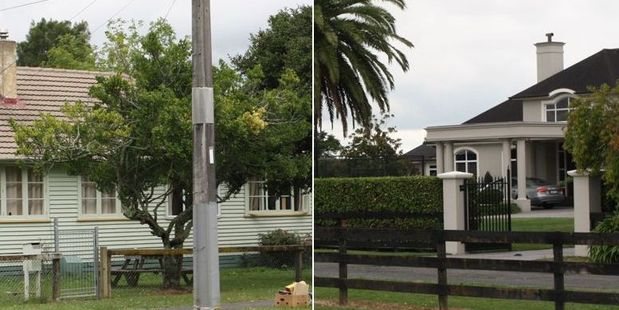 The discovery that million-dollar properties in the city's north are paying lower rates than $350,000 homes in Fairfield has Hamilton Residents and Ratepayers Association vice president Mischelle Rhodes asking exactly how the rates were set.
"Where's the justification in that?" she asked.
Two properties which make a particularly stark comparison are a $2 million home sitting on 1.6 hectares at the north end of River Rd paying roughly $300 less in rates than a $350,000 home onless than half a hectare on Heaphy Tce.
The River Rd property paid $2167 in the 2015/16 period, compared to $2441 paid by the home on Heaphy Tce.
This can be compared to a $1 million riverside home on Awatere Avenue paying more than $6800 in rates per year.
Hamilton City Council revenue manager John Gibson said the rates difference could be partially put down to rural small properties, which northern River Rd properties are designated, which do not receive a number of services which are covered on residential general properties.
"They don't get waste water, they provide their own sewage system, the water they use is separate to their rate account, so they pay a water-by-meter account based on whatever the consumption is.
"They don't have street parking, they don't have footpaths, they do get refuse [rubbish and recycling], but that's all they get."
Adding to the rates difference was a decision made by council that rural dwellings in the city pay 1 per cent of the total rates pool.
There are currently 567 properties designated rural small and 80 large rural properties in the city, equating to 1.15 per cent of the total number of Hamilton homes.
Mr Gibson said the 1 per cent rule would be reviewed at the next Long Term Plan meeting in 2018 but Council could review it annually if it they wished to make changes.
Residents and Ratepayers Association vice president Mischelle Rhodes said she had heard of other areas of the city where properties owners have been rated out of their homes by a change in land designation.
"I know one lady who has been for decades in a little old wooden house by the city gym on the corner of Greenwood St and Killarney Rd who was paying something like $6000 rates. She was driven out by the changing of zoning."
She said despite the ruling to make rural properties only pay 1 per cent of the overall rates pool with such high capital values the figures seemed disproportionate.
"I know overall we are being rated out of our own homes.
"That's because the powers-that-be have let the housing market go ballistic in Auckland. It's definitely driving people to be investing in Hamilton, the market's just quite mad."
Claudelands resident Michelle Leitch, 40, said it was not fair that owners of a property valued at $2 million pay less than a property valued at one-sixth the price, but said if the cost of running their own amenities made up the difference it made sense.
"I don't understand how they can be classed rural - maybe they would have been years ago but not now," she said.
River Rd resident Raj Harike, who recently moved into one of the northernmost properties, said he wasn't sure of the ongoing cost, but putting in the tanks had been extremely expensive.
One rural property owner, who did not want to be named, gave Hamilton News a rundown of the costs of living on a rural property, including roughly $20,000 to put in a septic tank and a $300 bill to empty it every year.
"If you're pumping water you have to install a pump, that would cost $2500 or so, then you need a holding tank.
"The other thing is your water could be contaminated with iron or other things so you have to use filters," she said.
Revenue manager John Gibson also said the land values of the properties would also have an effect. The River Rd property in question had a land value of $430,000 compared to $250,000 on Heaphy.
The equation to calculate rates is currently in a 10-year transition from land value to capital value (land and buildings) with 90 per cent currently based on land value and 10 per cent on capital.
"The more they move to capital the more they pay," Mr Gibson said.
As the city expands further north the sewerage system would likely be extended to these houses, Mr Gibson said .
This was a prediction shared by councillor Dave Macpherson, who said the properties at the north of River Rd would not always be classed as rural.
"We've had rural small that have become standard urban rating systems after a number of years when suburbs basically overtake them.
"In the short run you do have that issue and they are really in part of the city and probably shouldn't be rural but anything out on the outskirts of the built up area won't stay small forever."